UPDATE 15:30 Eastern Time 08 Mar 2020:
Anne Lloyd provided the following resolution to this case: it is a British flagged yacht called UMZUNGU call sign MNYT2; MMSI 235 038 556 owned by Mr K. P. Pearson.
Please see the attached photo with the UK SSR Number for the SV UMZUNGU.  It is SSR 123188.
If anyone knows Mr. K. P. Pearson of the UK, please ask him to contact the T&T Coast Guard, 868-634-1476 or Boatwatch.org.
——————————————————————–
SV "UMZUNGU" Breaks Loose From Mooring in Trinidad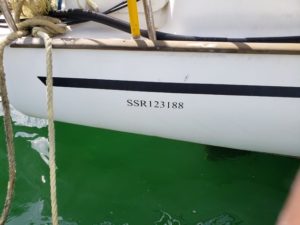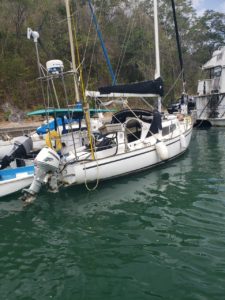 The Trinidad & Tobago Coast Guard has confirmed that on or about 29 Feb 2020, a 32 foot sloop, manufactured by Van De Stadt in Holland evidently broke loose from a mooring in Chagaramas Harbor, Trinidad, and was towed to a dock for safekeeping.
The vessel's name is "UMZUNGU", and from the UK. It is described as having a white hull with black stripe on top, black sail covers and black roller furling Genoa. The vessel has a radar arch with a Furuno radar dome, and a white Honda outboard on the stern.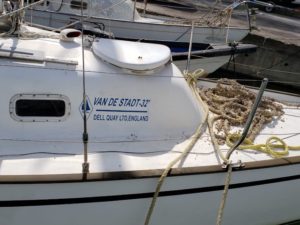 Anyone with information regarding this vessel or it's owner is requested to contact the Trinidad & Tobago Coast Guard at telephone number 868-634-1476, or contact Glenn@Boatwatch.org.