The Story of Boat Watch, an International Cruisers Aid
The mission of Boat Watch is to maintain a worldwide network of resources to aid mariners that are missing or overdue; have a boat stolen; or to whom urgent messages need to be relayed.
Our History
International Boat Watch Network (IBWN) was originally founded by Amateur Radio Operator Michael Pilgrim (K5MP) in 2001 as a public service and tool for the maritime community to share information regarding overdue and missing vessels throughout the world.
In 2007, Shipcom LLC, owned by Rene Steigler (K4EDX) agreed to take over management of the network as a public service to the Maritime Community. Mr. Steigler and Shipcom managed the IBWN until his untimely death in February 2018. Mr. Steigler was a member of the U.S. Coast Guard Auxiliary and Net Manager of the Maritime Mobile Service Network (MMSN), a network which continues to operate on the "Amateur Radio" frequency of 14.300 MHz.
In 2018, upon Mr. Stiegler's passing, Amateur Radio Operator Bobby Graves (KB5HAV), Net Manager of the Hurricane Watch Net, recognizing the value of the International Boat Watch Network, refused to let it go by the wayside and took over ownership and management of the IBWN. Mr. Graves has been managing the organization very effectively but has found his primary interest in the "Hurricane Watch Net" has been taking a large portion of his volunteer time, and there are only so many hours in the day. Therefore, Mr. Graves contacted Glenn Tuttle, the Net Manager of the Seven Seas Cruising Association High-Frequency Radio Service KPK to see if Mr. Tuttle was interested in assuming ownership and management of International Boat Watch Network. The answer was an enthusiastic "YES" inasmuch as the SSCA HF Radio Service KPK also focuses on overdue and missing boats, primarily in the Caribbean.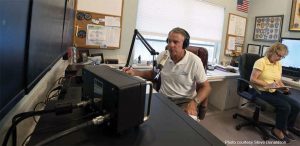 Since July 2019, husband and wife team Glenn and Eddie Tuttle have committed to ownership and management of the IBWN. The Tuttles will continue the operation and management of the organization, bringing it to new heights as a credible organization, and to serve as a conduit between the family and friends of overdue and missing cruisers and the many governmental agencies responsible for Search and Rescue Operations throughout the world.
Both Glenn and Eddie take this responsibility very seriously and will do everything in their power to assist in helping locate all overdue and missing vessels. They will work directly with family members and friends of missing cruisers to assist in their interaction with government officials if needed.
Meet Eddie & Glenn Tuttle
Eddie and Glenn Tuttle bring a wealth of experience and service to managing such an important organization:
Both Eddie and Glenn are retired FBI Agents with a combined 49 years of FBI service.
Both Eddie and Glenn have lived aboard both sail and powerboats on a full-time basis for 30 years.
Both Eddie and Glenn are licensed Amateur Radio Operators. Glenn K9TUT; Eddie K9TOT.
Glenn is an active member of the U.S. Coast Guard Auxiliary and a licensed Telecommunications Operator both on HF and VHF for the USCG Auxiliary.
Glenn is an active member of the Department of Homeland Security SHARES Program, which would transmit critical messages to coordinate emergency operations if traditional means of communicating via landlines and cellphones are damaged or destroyed.
Glenn is a former Net Manager of the Waterway Radio and Cruising Club, an Amateur Radio Club serving Amateur Radio Operators on boats for over 50 years. He is the current Liaison Officer to the USCG.
Glenn is the Net Manager of the Seven Seas Cruising Association's High-Frequency Radio Net, FCC Call sign KPK.  KPK is authorized to transmit on maritime frequencies from their home in SW Florida, using a high gain directional beam antenna. KPK is very capable of worldwide communications, depending on propagation. KPK is on the air daily at 1215 hrs. UTC on frequency 8.104. The SSCA is in partnership with the Caribbean Safety and Security Net who report on crimes against yachts in the Caribbean. In his capacity as Net Manager of the SSCA HF Radio Service KPK, Glenn routinely assists the USCG Rescue Coordination Center (RCC) in Miami in broadcasting messages of overdue vessels in the USCG District 7 Area of Operation.
Glenn is the founder and owner of the Cruisers Network Online, serving the International Cruising Community since 2006 with over 1600 members worldwide. Recently Glenn has transitioned from a Yahoo group to Groups.io.
To subscribe: https://groups.io/g/CruisersNetworkOnline/join