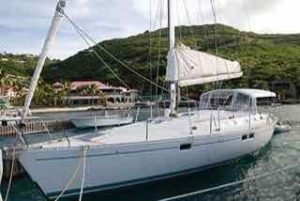 The S/V BLUE HIGHWAYS is a 44' Beneteau Oceanis which was missing and presumed stolen from a private mooring located in Leverick Bay, Virgin Gorda, BVI.  The vessel was last seen on the mooring buoy on April 6, 2019 and missing on April 7, 2019.
This boat is not to be confused with the S/V BLUE HIGHWAY, (No S on the end) a 44' 1981 Kelly Peterson, hailing port Marathon, Florida.  This vessel is currently in the Bahamas.
The most distinctive thing about this vessel is the diesel engine is not functioning due to a bad injection pump.
The prevailing wind in Virgin Gorda is out of the East ( 90% of the time)  The narrow cut between Virgin Gorda and Mosquito Island is almost due east with shallow water and reefs.    A deep draft unmanned sailboat which had broken free of it's mooring, and at the mercy of wind and current would almost certainly go aground.  So the likelihood of this being a theft is great.
The lettering "BLUE HIGHWAYS is in teal color.  The sail bag is tan in color.
The owner has filed a police report.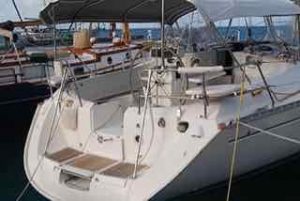 So, if you happen to be in an anchorage with a 44' Beneteau Oceanis take a close look at it.  If it does not have a workable engine, it's most likely the stolen boat.  Please contact any law enforcement or Coast Guard Agency, or send an e-mail to Glenn@Boatwatch.org and I will contact the proper authorities.  Be sure to take photographs if you spot the vessel. Be aware that the name of the boat could have been changed.
I am posting this and additional photographs on the SSCA Facebook Group, along with Facebook Groups for other areas in the Caribbean.
Thank you,
Net Managers
Boatwatch.org
Glenn@Boatwatch.org, 941-456-5070
Eddie@Boatwatch.org, 941-456-5080
More Images of the Benetau: