Broadcast Version For Maritime Mobile Service Network and Other Nets
BOLO:January 8, 2021, at 9 PM, USCG RCC Norfolk confirmed that a man was overboard from the container ship, MV Baltic Klipper at
35-44N 041-30W.
This is 1,200 miles NE of Bermuda.
Lookout, assist if possible. The USCG is searching with a C-130 Hercules aircraft. Report any sighting to RCC Norfolk.
___________________________________________________________
UPDATE: January 9, 2021
Coast Guard searching for missing man 1,200 miles northeast of 
Bermuda
Portsmouth, Va. — The Coast Guard is searching for a man who entered the water after he reportedly fell from the 541-foot refrigerated cargo ship, Baltic Klipper, approximately 1,200 miles northeast of Bermuda, Saturday morning.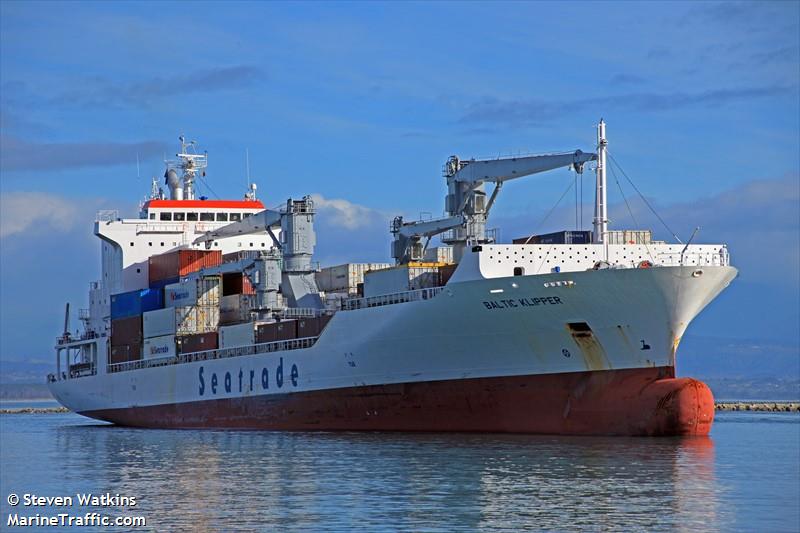 Watchstanders from the Coast Guard Fifth District Command Center received a call from Portugal Maritime Rescue Coordination Center Ponta Delgada at approximately 12 a.m., notifying them that a man entered the water from the ship.
Fifth District Command Center watchstanders issued an Enhanced Group Call message requesting mariners to keep a lookout for the person in the water.
The Coast Guard is searching with an aircrew aboard a C-130 Hercules aircraft from Coast Guard Air Station Elizabeth City and requesting the assistance of nearby vessels to search via the Automated Mutual-Assistance Vessel Rescue System.
Anyone with information regarding the whereabouts of the man are asked to contact the fifth district command center at (757) 398-6390.
090056Z JAN 21
HYDROLANT 68/21(51).
NORTH ATLANTIC.
DNC 08.
MAN OVERBOARD IN 35-44N 041-30W AT 090015Z JAN.
VESSELS IN VICINITY REQUESTED TO KEEP A SHARP
LOOKOUT, ASSIST IF POSSIBLE. REPORTS TO RCC
NORFOLK, PHONE: 757 398 6231, 757 398 6390,
FAX: 757 398 6392, E-MAIL: RCCNORFOLK@USCG.MIL,
D05-SMB-D5CC@USCG.MIL.