The M/V Fatal Attraction and Crew of Four Missing For Three Years Between Bahamas and Jamaica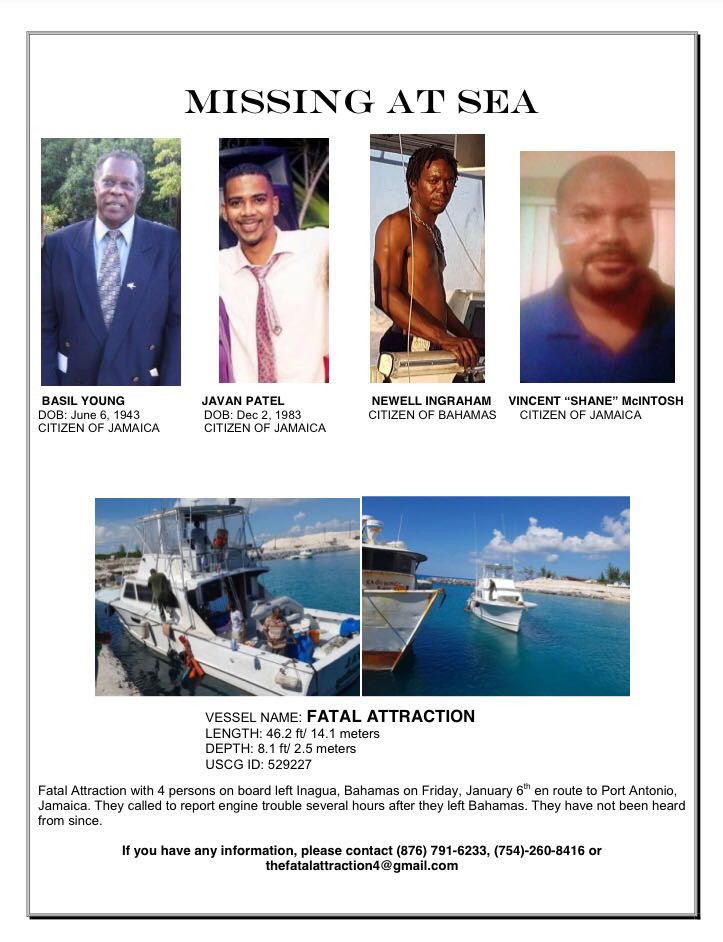 The family of four missing men, three from Jamaica, and one from the Bahamas has asked Boatwatch.org to list them as missing since 06 Jan 2017. We know it's been a long time, but listing them on Boatwatch.org links them to Google searches. There have been several recent missing vessels identified through Internet hits on Boatwatch.org's website that connected the dots between a SAR organization and family and friends of missing sailors.
The missing men are:
1. Basil Young, about 74 years old, Jamaican.
2. Javan Patel, 33 years, Jamaican
3. Newell Ingraham, about 28 years old, Bahamian
4. Vincent "Shane" McIntosh, about 30 years old, Jamaican who lives in the Bahamas.
They departed Great Inagua Island in the Bahamas on January 6, 2017 at about midday. They were destined to Port Antonio, Jamaica. They were not scheduled to make any stops. They should have sailed between Haiti and Cuba, through the Windward Passage.
The name of the boat is Fatal Attraction, a cruiser powerboat which reported engine trouble shortly after departure from Great Inagua Island in the Bahamas and did not arrive in Port Antonio, Jamaica. The boat was purchased in November 2016 in Florida. It is understood that it was still registered in the United States.