Broadcast Version For Maritime Mobile Service Network and Other Nets
UPDATE 1730 Hrs EDT 07 Apr 2021:
The USCG RCC Miami advised the Skiff was found capsized near Long Island, Bahamas. One of the two men was found alive on a beach, in need of medical care. A search is still underway for the missing man near Long Island in the Bahamas.

On 7 Apr 2021, The USCG RCC Miami has been asked by the Bahamian authorities to assist in the search for two Bahamian men, ages unknown, named MARVIN and CLINTON.
The two were last seen on 03 APR 2021 at 1000 hrs UTC in the vicinity of 23-10.35 N / 075-05.46 W or in the vicinity of Salt Pond, Long Island.
The skiff looks to be 16-18 feet in length, center console, one Yahama outboard engine, with a fishing platform over the engine.
Please report any sightings to USCG RCC Miami at 305-415-6800 or any Bahamas authority.
NOTE: The people in the photograph may or may not be those missing. But it is the missing Skiff.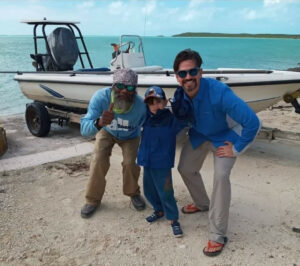 070924Z APR 21
HYDROLANT 947/21(26).
NORTH ATLANTIC.
BAHAMAS.
DNC 16.
VESSEL, TWO PERSONS ON BOARD, UNREPORTED. LAST
KNOWN POSITION IN VICINITY 23-10-35N 075-05-46W
AT 031000Z APR. VESSELS IN VICINITY REQUESTED TO
KEEP A SHARP LOOKOUT, ASSIST IF POSSIBLE.
REPORTS TO RCC MIAMI,
PHONE: 305 415 6800,
E-MAIL: RCCMIAMI@USCG.MIL.