Broadcast Version For Maritime Mobile Service Network and Other Nets
SV "Exodus Del Caribe", formerly known as "SV Venus", with David Welles, 69 years old, on board is overdue on a voyage from St. Vincent to St. Lucia in the Eastern Caribbean.
SV Exodus is a 38 foot sloop, navy blue hull, and is U.S. flagged. He left

St. Vincent OTTLEY HALL MARINA at 3:00 PM Thursday, 24th March



The U.S. Embassy in Barbados filed this overdue report.
All vessels in the area are requested to keep a sharp lookout, assist if possible and report to MRCC Fort de France.
UPDATE: March 27, 2022
MRCC Port-of-Spain (Trinidad) is assuming coordination of this case.
This report from the St. Vincent Coast Guard.
A patrol was conducted on today's date reference the above mentioned subject, all ports and points of entries were checked.
The Ottley Hall Dry Dock Marina was the only one to confirm that they came in contact with the vessel and the owner, they reported that the owner of the vessel did some repairs and then left. They further stated that there was one person onboard the vessel who they described as an elderly man.
The leeward Course was further searched in an effort to locate the said vessel, however efforts were futile.
St Vincent and the Grenadines Coast Guard Service
SVGS Calliaqua Base
Coast Guard Base, Calliaqua
P.O Box 3020
Kingstown
St. Vincent
Tel: 784-457-4578 / 784-457-4554
Fax: 784-457-4586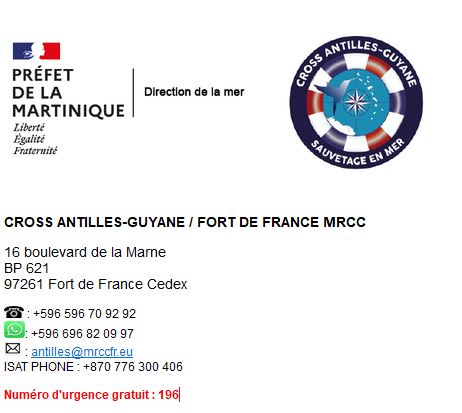 270703Z MAR 22
HYDROLANT 874/22(25).
EASTERN CARIBBEAN SEA.
SAINT VINCENT TO SAINT LUCIA.
DNC 14.
38 FOOT S/V EXODUS DEL CARIBE, (formerly S/V VENUS)
BLUE HULL,
ONE PERSON ON BOARD, OVERDUE
SAINT VINCENT (13-23N 61-10W) TO
SAINT-LUCIA (13-46N 61-02W) ON 24 MAR.
(THE VOYAGE FROM ST VINCENT TO ST LUCIA IS 47 NM.)
VESSELS IN VICINITY REQUESTED TO KEEP A SHARP
LOOKOUT, ASSIST IF POSSIBLE.
REPORTS TO MRCC FORT DE FRANCE,
INMARSAT-C: 422799024,
TELEX: 42912008,
PHONE: 5965 9670 9292,
FAX: 5965 9663 2450,
E-MAIL: [ANTILLES@MRCCFR.EU](mailto:ANTILLES@MRCCFR.EU).