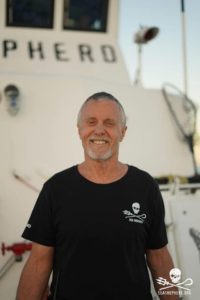 A veteran sailor with close ties to Bermuda is missing in the Caribbean.
Bob Peel, the former captain of the Boadicea, the superyacht owned by Reg Grundy, the late Australian media mogul and former Bermuda resident, set out from Carriacou Island, Grenada, on March 18 or 19.
The emergency locator beacon on his yacht, Kalayaan was activated on March 19 and continued to operate until March 24.
There has been no trace of 69-year-old Captain Peel since.
Mark Williams, a Puerto Rican resident and friend of Captain Peel, said the career sailor, originally from Edinburgh, Scotland, had spent a lot of time in Bermuda as skipper of the Boadicea.
He added that the 630-mile trip from Grenada to Puerto Rico could have been completed in four or five days.
Mr Williams said: "Knowing him, he probably would have stopped and leisurely rested during his travels.
"We knew he eventually would visit us in Puerto Rico. He was probably looking forward to surprising us and showing up as he had done many times before."
Mr Williams added that the US Coast Guard had joined the search for the missing man.
He said: "I have confirmed that the coastguard air division here in Puerto Rico is actively searching for Captain Robert Peel and his sailing yacht with their aircraft."
Sailors in the Caribbean area have also been asked to be on the lookout for Captain Peel and his UK-registered sailboat.
A notice on sailing website Boat Watch from a friend said: "We had last established communications with Bob on March 14 and that his planned voyage was to head north to San Juan, Puerto Rico. He was at anchor in Tyrell Bay, Carriacou.
"After ten days of no comms we started to get concerned.
"We contacted the cruiser community down there and someone eye-witnessed his yacht, Kalayaan, departing the bay and headed north. This was March 18 or 19."
Mr Williams added: "During these times of quarantine it may be very difficult to get enough hands to look for him.
"Captain Peel is a very experienced seafarer and those that know him are sure he is floating on a raft somewhere in the lower Caribbean north of Trinidad.
"He departed unannounced to us — we were wondering why he was not answering our usual WhatsApp attempts to say 'hi'.
"We received news on Friday from a friend in the British Virgin Islands that they were looking for him."
---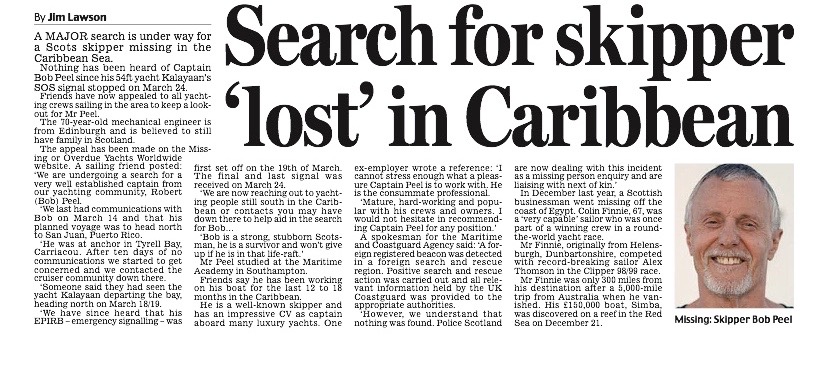 Search for missing Scottish sailor Bob Peel who has not been heard from for almost two weeks
Article by ITV News Producer Natalie Wright
A search is underway for a sailor who has not been heard from in almost two weeks.
Robert Peel, who is from Edinburgh, issued a distress call on March 19 from his 54 foot yacht after leaving Tyrell bay in Carriacou, Grenada.
The emergency signal stopped transmitting on March 24 and nothing has been heard from the sailing yacht Kalayaan nor her captain since.
Friends from the sailing community are pleading for help in the search and rescue operation, contacting maritime authorities in the UK, Trinidad and Tobago, Grenada, St Vincent and Puerto Rico which was his planned destination.
However, with no one authority taking control of the operation, they are appealing for help to predict his potential location through drift analysis and asking for anybody in the area to help look out for the 70-year-old who is thought to have been sailing alone.
A close friend told ITV News that "Bob is an experienced sailor who always took safety very seriously.
"If he saw his life to be at risk, he would have done something.
"The yacht has an emergency life raft and a dinghy and we believe he is still alive"
ITV REPORT
UPDATE: April 15, 2020
Broadcast Version For Maritime Mobile Service Network & Other Nets
A BOLO has been requested for SV KALAYAAN, UK registered Sun Odyssey 54DS, Blue Hull, with Captain Bob Peel on board. He departed Tyrell Bay, Carriacou on March 18th with plans to sail north to Puerto Rico.
CS:MEKZ8 and MMSI:232 019 710. SV KALAYAAN does have a life raft and is a very experienced mega yacht captain. Also, be on the lookout for a 6 man Sea Safe life raft.
Chris Parker has been has provided part of his initial drift analysis which indicates the vessel is probably drifting generally SW in the Caribbean, probably closer to ABCs and Venezuela than to PuertoRico or Hispanola.
Chris predicts that the target may be North of Bonaire and partially submerged at:
Wednesday April 15: 14-50N /68-07W
Thursday April 16: 14-47N / 68-25 W
Anyone with information should contact RCC Trinidad & Tobago, USCG or Glenn@boatwatch.org.
UPDATE April 13, 2020 – Chris Parker, Marine Weather Center (mwxc.com), a partner with Boatwatch, has been conducting an analysis of the EPIRB data to provide some answers and a possible drift analysis.
Chris is using the raw data for the confirmed EPIRB activation on 19 March 2020 at 0107 hrs UTC in position 12 32.57 N / 061 39.57 W. The EPIRB stopped transmitting on 23 March 2020 at 1222 hrs UTC in position 13 07.40 N / 062 16.26 W.
We have received two parts of the analysis.
PART ONE:
The raw EPIRB data was a mess. I started by trying to mentally "smooth" the erratic positions, and that worked for the first day-or-so, but after that the fixes had more variability, so I actually had to plot graphically the Latitude from all fixes in an hour, and pick what seemed most representative…then do the same with all Longitude fixes for that hour…then repeat this for every hour.
The result is a "smoothed" but accurate track. I'm pasting 2 charts…one shows the Latitude each hour for the 111 hours, and the other Longitude for each hour.
One interesting thing is the EPIRB target reached its farthest N Latitude about 6pm local time on 22March (about 3.5 days into the EPIRB fixes, but 14 hours before the last fix. For the last 14 hours, the target actually lost Latitude (moved S-of-W).
Another very interesting (even more interesting) motion is seen by examining Longitude:
At 20Mar/4:00am local time the target was along 61-50W (61.938 in decimal degrees)
At 21Mar/4:00pm local time (36 hours later) the target was also along 61-50W (61.935 in decimal degrees)
The reason this is interesting is wind was between NE and ENE (pushing the target SW-WSW)…and current should have been pushing the target W-NW. Even if there was a tidal current which caused the target to move in a different direction, it would only have done so for 6 hours at most before reverting to a more expected course.
Next step is to review satellite wind data and currents more specifically for each 12 hour time block (I should be able to do this Mon13), and then I may be able to draw more conclusions….but what I'm seeing is only consistent with the target being able to move in a direction different from the direction it would have been blown by wind and/or set by current.
In other words, about the only thing this motion is consistent with is a sailboat, able to move up-wind and up-current, but sailed poorly because it was moving so slowly and erratically.
PART TWO:
I used the "Composite" numbers for the fixes.
For most of the 111 hours, the Latitude fixes had less variability, while the Longitude data was frequently varying by up to a couple tenths-of-a-mile with each fix.
But about half way through, both Latitude and Longitude fixes became more erratic, and I had to use visualization to pick realistic positions. The slow speed of motion makes the erratic fixes more apparent and more problematic, because sometimes the fixes over any 60 minute period of time were varying more from fix-to-fix among the 200+ fixes each hour, than the entire motion of the target over that hour.
After I have a chance to consider satellite wind data, and maybe the StLucia (TLPL) archive METAR data (if I can find it), maybe some other scenario will become apparent…but at the moment I do not know how anything other than a sailboat could have made the up-wind and up-current motion especially the fue-N motion in this timeframe (I corrected the Deg-Min conversion below):
At 20Mar/4:00am local time the target was along 61-56W (61.938 in decimal degrees)
At 21Mar/4:00pm local time (36 hours later) the target was also along 61-56W (61.935 in decimal degrees)
The tragic thing is this position was only 40 miles W of Bequia.
As for the present location of the vessel…The last 10+ hours of motion were WSW-W, which is more consistent with what the motion should have been for anything other than a sailboat trying to sail upwind. If we assume that motion (drifting downwind and being set by current, with no active motion upwind) continued, then the vessel is probably drifting generally W in the Caribbean, probably closer to ABCs and Venezuela than to PuertoRico or Hispanola.
The following information was received from concerned friends:
"We are currently undergoing search for a very well established captain from our yachting community, Robert/Bob Peel.

We had last established comms with Bob on 14th March and that his planned voyage was to head north to San Juan, Puerto Rico; he was at anchor in Tyrell Bay, Carriacou. After 10 days of no comms, we started to get concerned and we contacted the Cruiser community down there and someone eye-witnessed his yacht, Kalayaan, departing the bay and headed north. This was 18th or 19th March.

This evening, we have found out that his EPIRB has been set off, first on the 19th March, and then the Final and last signal received was 24th March; information I received from Trinidad and Tobago SAR. We have contacted MRCC Falmouth UK, USCG San Juan PR, MRCC Martinque SAR in Grenada – and everyone seems to be bouncing around whose problem this is.

We are now reaching out to the yachting community, for people still south in the Caribbean, or contacts you may have down there, to help aid in the search for Bob. Watchkeepers in the vicinity, please keep an extra vigilant lookout for anything that may help us work out where Bob is. Bob is a strong, stubborn Scotsman; he is a survivor and won't give up if he is in that life raft."
RCC San Juan has confirmed the EPIRB activation on March 19, 2020. RCC Trinidad and Tobago is assigned this case and has conducted a search.
Click on the pictures to see larger.