The following Bahamian rescue at sea began on the beautiful island of Great Harbour Cay in the Berry Islands.
We, Commodores Glenn and Eddie Tuttle, Tothill, were fortunate enough to have been able to lend a hand, as were several other SSCA Commodores who assisted in, and actually made, the incredible rescue at sea of two Bahamian fishermen.
Kitty Genovese was a New York City woman who was stabbed to death near her home in Queens, NY in 1964. The murder, and her screams for help, were witnessed by many of her neighbors, yet nobody reacted to call the police. This apparent lack of caring prompted a study by criminologists, and led to the identification of a social psychological phenomenon known as the "Genovese Syndrome" regarding the diffusion of responsibility. The conclusion of the study was that, contrary to common sense, larger numbers of bystanders or witnesses will decrease the likelihood someone will take the initiative to help the victim. Everyone will think that so many people know about the event that somebody else is surely reporting the incident.
That is exactly what was taking place on Great Harbour Cay in the Berry Islands of the Bahamas in the early morning hours of Sunday morning, May 17, 2015.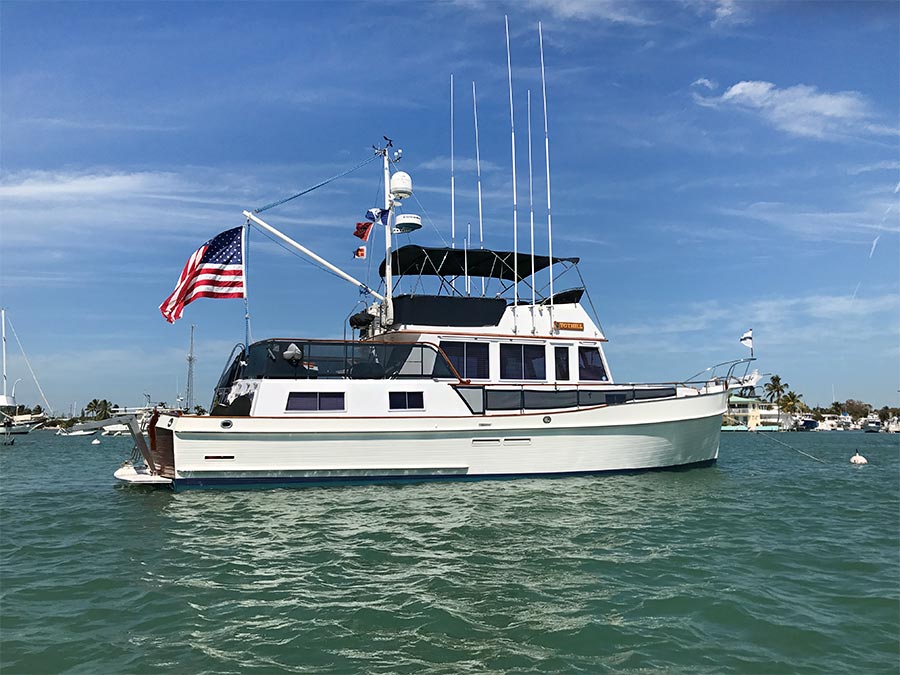 My wife, Eddie, and I had been enjoying the tranquility and social activity at the Great Harbour Cay (GHC) Marina. Hans Febles, the marina manager, does an outstanding job of welcoming and accommodating cruisers. In fact, so much so, Eddie had recruited Hans to become an SSCA Cruising Station host and SSCA website vendor. It was here where we met fellow SSCA Commodores Russell and Lynne Frazer of the s/v Blue Highway. Russell and Lynn were up early that Sunday, preparing to leave, on what turned out to be a great downwind sail to Rodriguez Key, Florida. While saying our good-byes and helping them cast off, one of the Harbour Cay Marina employees, Tramiko, told us that two local fishermen failed to return home the day before after fishing on the banks near Little Stirrup Cay on the north part of Great Harbour Cay. Miko, as he is known, was visibly distressed.
Everyone on the island knows one another, making the island like one big family. And they are all very friendly to all the cruisers. We asked Miko if the Bahamas Air Sea Rescue Association (BASRA) had been notified. Miko didn't know and referred us to Kimberly, one of the sweet marina office ladies. Eddie went to the office to determine who had been notified, who exactly was missing, and what was being done to find the missing fishermen.
Blue Highway left the marina and immediately began communicating with Tothill at the marina regarding the unfolding information via VHF and SSB. Kimberly called one of the fishermen's mother, who verified the two cousins had not returned. Kimberly provided us with their names, ages, description of their vessel – and the fact they were last seen between 1:00 and 2:00 p.m. Saturday near Little Stirrup Cay. The mother added they did not have a cellular phone, VHF radio or anchor aboard the 13-15' open fishing boat with a 25 horsepower outboard engine. She also added the cousins did not take food or water with them that morning. Kimberly made phone calls to the Berry Island Police and then, at Eddie's urging, called Bahamas Air Sea Rescue Association (BASRA.)
We immediately typed up and printed out a lookout script so we could read it as a "Pan-Pan" (urgent message) on VHF Channel 16, and started broadcasting the message. We also sent it via email to the Cruisers Network Online, other HAM/SSB operators, and as many others as we could think of. It was confirmed vessels in the area of Little Stirrup Cay heard our broadcast.
Russell and Lynne on Blue Highway calculated that with the east wind, the fishing boat should be drifting west. We both agreed to broadcast the message hourly and, since Blue Highway was headed in that direction, we had hoped someone would hear the message and spot the drifting boat.
We soon learned the boat was spotted adrift by a vessel named Panacea at 1:03 p.m. Saturday, approximately one mile west of Little Stirrup Cay. The captain of Panacea called the GHC Marina on a cellular phone and reported that he had contact with the men who were "waving their arms and pointing at their engine," but the water was too shallow for him to assist. He was told the marina would notify the Berry Island Police Department. Later Sunday morning, we learned that Panacea, a 62' motor yacht, was moored at GHC marina and a regular transient at the marina.
We reported the incident initially on the Waterway Radio & Cruising Club Ham net (7.268) at 0745, and then the Cruiseheimers SSB Net (8.152) at 0830, and continued broadcasting a Pan-Pan on VHF Channel 16 every hour throughout the day. Both Russell on Blue Highway and Rick Medero on the s/v C Language are active relay
stations for the Cruiseheimers Net, and made sure the lookout stayed active on that net. SSCA Commodores Larry (AC4GG) and Sue (KK4IBR) Hamilton in Marathon, Florida are active on the Waterway Net and on the Maritime Mobile Service Network (14.300) and ensured the lookout was covered on that net. Paul Van Muers (KM4MA), also active on both ham nets, coordinated the contacts with the USCG.
We contacted SSCA member Chris Parker of the Marine Weather Center (www.mwxc.com) and asked him to relay the lookout during his weather broadcasts. Chris recently upgraded his SSB radio station with large directional antennae and is one of the most powerful SSB stations on the air. Also, we knew that most all blue water cruisers religiously listen to Chris Parker for weather information. So the lookout from Chris would be effectively spread throughout the Bahamas. We also asked if he would do a wind and current analysis to try to predict the path and speed the fishing boat would drift.
Chris predicted the boat would drift approximately due west at about 1kn. Based on that information, the boat would be heading across the banks toward North Rock, north of Bimini, by Monday night or Tuesday morning, and eventually into the Gulf Stream. We provided a hard copy of this drift analysis to the police at Great Harbour Cay and also to the Bahamas Defense Force, who were actively searching for the fishermen. The Bahamas Defense Force vessel docked at GHC Marina Sunday night, May 17, after a long day of searching.
All cruisers in the GHC Marina were given printed flyers of the Pan-Pan message and the Chris Parker drift analysis so that they could broadcast the message on the VHF and know where to look for the missing men. We learned that BASRA had aircraft involved in the search. The USCG was aware of the issue, but not actively involved in the search. One thing we know for sure, we never heard any official VHF radio broadcast about the missing fishermen the entire three days and three nights they were missing, other than broadcasts from other boaters.
Later on Sunday, Blue Highway, now sailing west, spotted an anchored merchant vessel on his AIS named Maersk Visby, which would have been very near the predicted path of the drifting fishing boat. Russell, guessing that the fishermen would have seen the ship's lights and paddled to the ship, contacted the ship via VHF radio and asked that the crew carefully check their anchor chain and waterline for any signs of the fishermen clinging onto the ship.
Unfortunately, nothing was found.
Sunday at the Anglican Church on Great Harbour Cay, the priest spoke of the missing cousins and all prayed for their safe return to the island. But Sunday gave way to  Monday with no word of the fishermen. We departed GHC Marina early Monday morning enroute to Cat Cay and continued broadcasting the lookout hourly. We stayed in touch with Hans via Winlink email and our Bahamian cellular telephone.
On Monday afternoon, May 18 Hans reported via email that BASRA had located them – however within an hour, he reported that BASRA had actually located another fishing boat. The cousins were still missing. The fishermen were now missing for well over 48 hours in an open boat with no food or water.
According to Chris Parker's drift analysis, the boat would be nearing North Rock on Monday night or Tuesday morning. Someone had to find them before then, or the Gulf Stream would take them north! Monday evening, on Dick Gidding's (St. Jude;W3RDT) Doo Dah Net (8.152), Dick repeated the lookout, and confirmed with the U.S. Coast Guard that they were aware of the situation. All agreed the situation was looking bad, very bad for the young fishermen.
Unbeknownst to all of us, Monday evening, May 18, at approximately 2130, in the pitch-dark waters on the Great Bahamas Bank, a miracle was taking place. That incredible story is appropriately told by SSCA Commodores Robert and Ellen Tischbin, Miclo III who were 46.4nm due west of where the fishermen were last seen on Saturday, May 16.
Miclo III has been our full-time home since May 2009. Our first season and shake down cruise we returned to our beloved Bahamas, where we had spent our honeymoon on a bareboat charter. We then cruised the Bahamas again during the first years of our marriage on our 1939 Rhodes 27, White Mist. Years later, on Miclo III, we headed down island to the Caribbean and have been there since spending hurricane seasons in Trinidad. We never expected to be returning to the States with two Bahamian souvenirs!
The morning of Monday, May18, we (Robert and Ellen) listened to Chris Parker's SSB net before leaving West Bay, New Providence at 0700. As always Chris started with Priority Traffic which, on that day, was the news of the two fishermen missing since Saturday from Great Harbour Cay in the Berries. Meticulous as always, Chris had calculated their approximate position based on current, wind and drift, as likely being on the Great Bahamas Bank, a big body of water, but none-the-less where we were headed on our Norsemen 447 sailboat and full-time home. Additionally, we heard Pan-Pan messages on VHF Channel 16 from the m/v Tothill, broadcasting from Great Harbour Cay.
Though there is always at least one of us in the cockpit keeping watch, day or night while underway, that day we found ourselves constantly scanning the horizon and glued to the binoculars, never dreaming we would actually spot them in that vast expanse of water.
However, at approximately 2130, on a night so dark you couldn't tell sea from sky, we heard cries for help. Sailing downwind at about 6.5kn with reefed main and genoa, no engine, Rob was at the helm and I was below trying to get some sleep when we heard the shouts. As I climbed into the cockpit, Rob pointed to their position, told me to put a spotlight on them while he headed the boat up to furl in the genoa. Before nightfall, we had reefed both the main and headsail. That night, we were again glad that we had made that a habit on all overnight passages. (Lesson #1: school of hard knocks learnt previously).
We then centered up the main and lastly the running back stay was pulled forward out of the way in case of a jibe while we searched. What seemed like hours was really only minutes passing, while we took these essential safety precautions. We didn't want to make a bad situation worse by doing something stupid that could have dangerous ramifications to the men in the water or incapacitating our boat and leaving four people adrift. However, in the interim I had lost sight of our target.
With boat speed decreased, engine on, we came about to search for the men again.
Lesson #2: hit the MOB icon on your chart plotter! Flashlight in hand, I began searching again while Rob maneuvered Miclo III back to our rhumb line at a 90° angle. Meanwhile the sailboat Free Spirit, that had been some distance behind us all evening, was quite close now marking the SE side of the "rescue area." I grabbed the VHF remote (an essential piece of equipment) and alerted Free Spirit to the situation, asking them to try to hold their position, primarily so they wouldn't run over the men adrift, but also to aid in the search by putting a spotlight out. They also served as a reference point for us because it was so intensely dark that night that it was alarmingly disorienting.
Not long after, though it felt like forever, while looking south of our rhumb line where we figured they would have drifted during the time they were out of our sight, I spotted a small bit of white that didn't look like spray from waves. My yells went unanswered, as they were downwind of us. We had to jibe (glad then we had moved the backstay forward), Rob maneuvered Miclo III alongside while I notified Free Spirit that we had found them. Position 25°48.200N, 078°49.400W, noted and later provided by s/v Schervo, who was monitoring the activity via VHF.
On the first try, the men held out a small plastic oar for Rob to grab, but they were pulled away by the strong current and wind.
Success on the second pass! They tossed what was left of some polypropylene line that Rob was able to grab. With the 10-15' skiff alongside, the guys yelling and jubilant, and with at least 6" of seawater in the sinking boat, it was apparent we needed to get them on board quickly. With the wind and current, this wouldn't be easy.
While Rob held fast to the painter, one by one the guys got a foot on our cap rail and Rob hauled them over the lifelines, there was no time to open the lifeline gates. Now what to do with the dinghy? There wasn't enough line on it to tie it off, it was sinking, it would be a huge drag on us and we really didn't want to risk climbing into it to try to scuttle it. The guys told us to let it go. We were afraid it wouldn't sink immediately and someone would hit it. While at the helm I discussed it with Free Spirit via VHF. They had passed ahead of us and were back on the rhumb line to Great Isaac Light and agreed it was probably best to let it go, as at that point our position was well south of the rhumb line.
Leslie Travis Winder and Dwayne DeAngelo Winder (cousins) were exuberant; much hooting and hugging ensued until they collapsed on our aft deck, seawater soaked from sitting in it and bailing it out non-stop for the past three days.
First things first. We had to get back on course. But wait. It hit us both at the same time. What do we do? Everything was happening all at once, mass confusion, me at the helm trying to get the boat moving again and back on our course, VHF in the other hand as I spoke with Free Spirit and another vessel, m/y Stone Face, who had called with assistance. Stone Face, who was anchored some 50 miles back from where we had come, offered to "house" the cousins for the night and return them to the Berries the next day but we would have to deliver them.
Alternately, we could have returned them to their home in Great Harbour Cay ourselves, but that was some 90nm back, upwind. Bimini was about 25nm away, but we had never been there before. Surrounded by reefs and in the black of that night, it wasn't an option we were open to. Neither was anchoring on the banks for the night to return to the Berries in daylight, as the weather that night was unstable with convection to the south of us. We had picked this weather window to sail back to the States, as a family medical situation with Rob's mom required our immediate return. Leslie and Dwayne were fine with that decision, happy to be rescued! They told us they had been to the States and had friends and family there. All parties agreed for the safety of vessel, crew and now passengers, we should proceed on our planned route.
Meanwhile, Stone Face, whom I had asked to notify BASRA and the USCG for us, had been unable to do so. First attempts to contact the USCG via SSB emergency frequency 2182 were negative. They then called the Rivera Beach station via SatNav and the automated menu system kept them in limbo for so long that their calls were dropped due to a weak signal. They contacted, via VHF, commercial vessel Majesty of the Sea (we are assuming a cruise ship) and they agreed to use their communications to call the USCG and apprise them of the situation. About 12 hours later, the USCG would ask why we didn't contact them first before bringing them on board and proceeding to the U.S. We were amazed and countered that we did indeed make all attempts to contact them, however, our primary method of communication when offshore or in non-U.S. waters is the SSB radio, as it is for the majority of worldwide cruisers. They actually asked why we didn't call BASRA by phone. They clearly didn't have a clue as to where this had taken place.
For the past several months people had told us that the U.S. Coast Guard does not monitor the SSB emergency channel. We didn't believe them, but now we know better. We did think about contacting the Maritime Net for assistance, but we assessed that the most crucial use of our time was in taking care of these men and bringing them to safety (Lesson #3: No reliance can be placed on the emergency SSB frequency; next time we will rely of the Maritime Net.)
Back on course, water had been distributed (Lesson #4: we should have added juice to the RO water for nutrients). Rob got them started with showers and gave them clothing of his while I prepared food for them and made up bunks while they ate and they shared horror stories of the past three days adrift. The worst part was the sharks that taunted them mile after mile until they dribbled gasoline in the water to thwart them, which thankfully worked. At one point they had drifted out into the NE Providence Channel and felt all was lost. Eventually, however, the current swept them, with great relief, back on to the Great Bahama Banks. That evening, we really didn't realize the extent the prolonged exposure had had on them. We were all just so relieved that they were alive. While they slept, we continued the westward sail to the States.
The next morning at 0630, Rob reported the rescue to Chris Parker. By 0830, the men had a breakfast of scrambled eggs and bacon with the last of our Bahamian bread for toast. Leslie and Dwayne crawled back into their bunks, fortified with food, more water and Tylenol for their headaches. Their digestive system was upset, their skin burnt and lips swollen. I gave them lip balm, but forgot the toothbrushes! With 14nm to the inlet and an ETA of 1030 we made our first call to the USCG via VHF. We were asked to call via phone once service was available. We did so at 0941 and were told to proceed to the outside sea buoy and call at that time.
So at 1035, we called again and were informed that, until they could confirm the identity of the men, we would not be allowed through the inlet. We were told to standby until further notice. At 1102, we called again to tell them that we felt the men needed medical attention. They were quick to point out that it had first been reported to them that we had said there was no medical emergency (this was the info given to Stone Face and later Majesty of the Sea). I said yes, that was true, they had been conscious with no broken bones or apparent trauma when we had picked them up over 12 hours ago, but we felt they were severely dehydrated and needed medical attention.
We were told again to stand by. Meanwhile at 1124, we received a call from a Bahamian number. It was from a staff reporter with the Bahamian Tribune, who was in Great Harbour covering the story. She asked to do a taped interview over the phone, also promising to get Leslie's mom, who was close by, on the phone so she could speak with him. We agreed. After the interview they had a lovely, long conversation while we waited still. Finally, at approximately 1146, after another call to the USCG, we were informed that an escort was on its way. A few minutes later, a large RIB arrived with five or six officers on board, two of whom jumped aboard Miclo III. For the next 90 minutes, questions, paperwork and an inspection followed. They were professional, nice, efficient, in doing their job. But all I kept thinking was that it was now well past lunch and the "boys" (same age as our daughter) must be hungry! Meanwhile, a boat from the Sheriff's Department arrived and hovered nearby. Now we were really getting worried. After what seemed ages, the commanding officer received a call that they would be allowed into the country.
When we asked for specifics as to what would happen to them, they were not very forthcoming. During goodbye hugs with teary eyes, I handed them both our boat cards and asked them please to contact us should they need any assistance and to let us know when they were okay. They were transferred to the USCG vessel and then the
Sheriff's Boat pulled alongside to ask us more questions. Finally, we were told to go anchor and they would come by later for additional information, which they never did.
Later in the cockpit, after dropping the anchor, we shook our heads when we realized that we had the exact same thought within the space of 12 hours, "What did we just do!"
First, when we plucked two strangers from the waters of the Great Bahama Banks on to our home and sailed onward – and then again when we felt as if our actions may have gotten these two nice kids into a precarious situation with the U.S. authorities.
At 1724 we received a call from Rueben, a friend of the Winder family, thanking us and informing us that he and his wife had Leslie and Dwayne in their car and they were on their way to their home in Miami. He said the boys wanted to make sure we knew they were safe and would be on their way home tomorrow. Relief and gratitude overwhelmed us and all the anxiety and stress of the past 24 hours surged through us. We could not begin to imagine how traumatized Leslie and Dwayne must have felt.
Later that evening, as we were finally preparing to go to bed, we received a call from the Bahamas. It was Leslie's mom, thanking and blessing us. We slept well.
On Wednesday, we received calls from SSCA Vice President Glenn Tuttle and SSCA President Scott Berg, and had a lovely voicemail message from Dwayne's mom. Friends on Barefootin', also SSCA Commodores, forwarded us the article from the Tribune. We were receiving so many requests from people as to what had happened that we posted the article with a short version of the rescue on our Facebook page. It was shared by many of our friends to their Timeline.
Dwayne and Leslie returned to Great Harbour on Wednesday, flown in by Rueben in his private plane! Since then we have received numerous FB friend requests from family and friends of Leslie and Dwayne. There were many heroes in this story and thank God for that.
On Tuesday morning, May 19, Glenn and Eddie aboard Tothill, learned of the rescue from Chris Parker via SSB while anchored at Cat Cay. Tothill relayed this information to Hans at GHC Marina via Winlink, and coordinated information with U.S. Coast Guard in Nassau and HAM and SSB operators on the various nets.
Respectfully Submitted,
Commodores Glenn & Eddie Tuttle
Commodores Robert & Ellen Tischbin