The Seven Seas Cruising Association (SSCA) HF Radio Service Net, FCC Call Sign KPK, is pleased to announce a new service. We have always taken Float Plans of vessels making offshore passages, and tracked them using the HF Radio and/or a satellite GPS tracker such as a Garmin In Reach or Iridium Go.
We now have secured the capability to receive AIS signals from the MarineTraffic satellite feed. This essentially gives us the ability to track any vessel transmitting an AIS signal from most anywhere in the world.
Class A AIS Units are more powerful and reliable than Class B units.
There are new two varieties for Class B AIS units:
Class B CSTDMA 2-watt: These transponders are the traditional Class B units, have a transmit range of 5-7 miles and use the carrier sense system for getting a transmission slot.
Class B SOTDMA 5-watt: This is a new type of Class B transponder. These units transmit with 5 watts of power and typical transmit 10-15 miles. These use the same self-organized slot management system as the commercial Class A transponders.
If you desire to have KPK keep a Float Plan on your vessel, in addition to your normal Float Plan designees, download a PDF of a USCG Auxiliary Float Plan at https://boatwatch.org/resources/ and e-mail it to KPK@ssca.org.
NOTE: Boatwatch and the SSCA HF Radio Service Net KPK will NOT act as your primary Float Plan Contact, or Emergency Contact on your EPIRB.
Below is a screenshot of a vessel we are presently tracking from the Canary Islands to Grenada.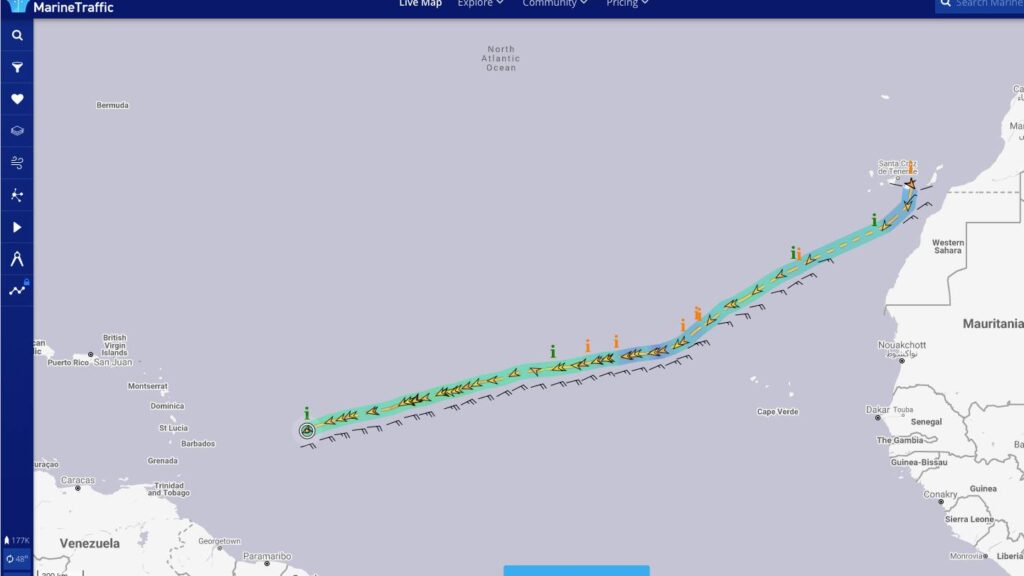 Although we always appreciate membership in the SSCA, membership is not required to participate in the SSCA HF Radio Service Net. All vessels are welcome.