This video was recently hilighted by Paul Bernard's Facebook Group,U.S. Coast Guard Heartland Safe Boating. Several of the USCG Safety experts made some very important comments for all of us regarding the color of things we wear and use. Here is an important comment posted by Scott G. Talbot:
"Detection is a huge part of making sure we can see you when your in the water. Bright colors (int orange, Bright greens, etc) greatly increase your chances of being seen by air and surface resources. Add some retro reflective material to a PFD and you will stick out like a spot light at night when the light hits it. Like Paul mentioned PFD manufacturers tend to appeal to what looks cool with colors rather than what will make you more seen if your in the water. Also, a good water-proof strobe at night will help you to be seen very quickly by the NVGs our aircrews wear."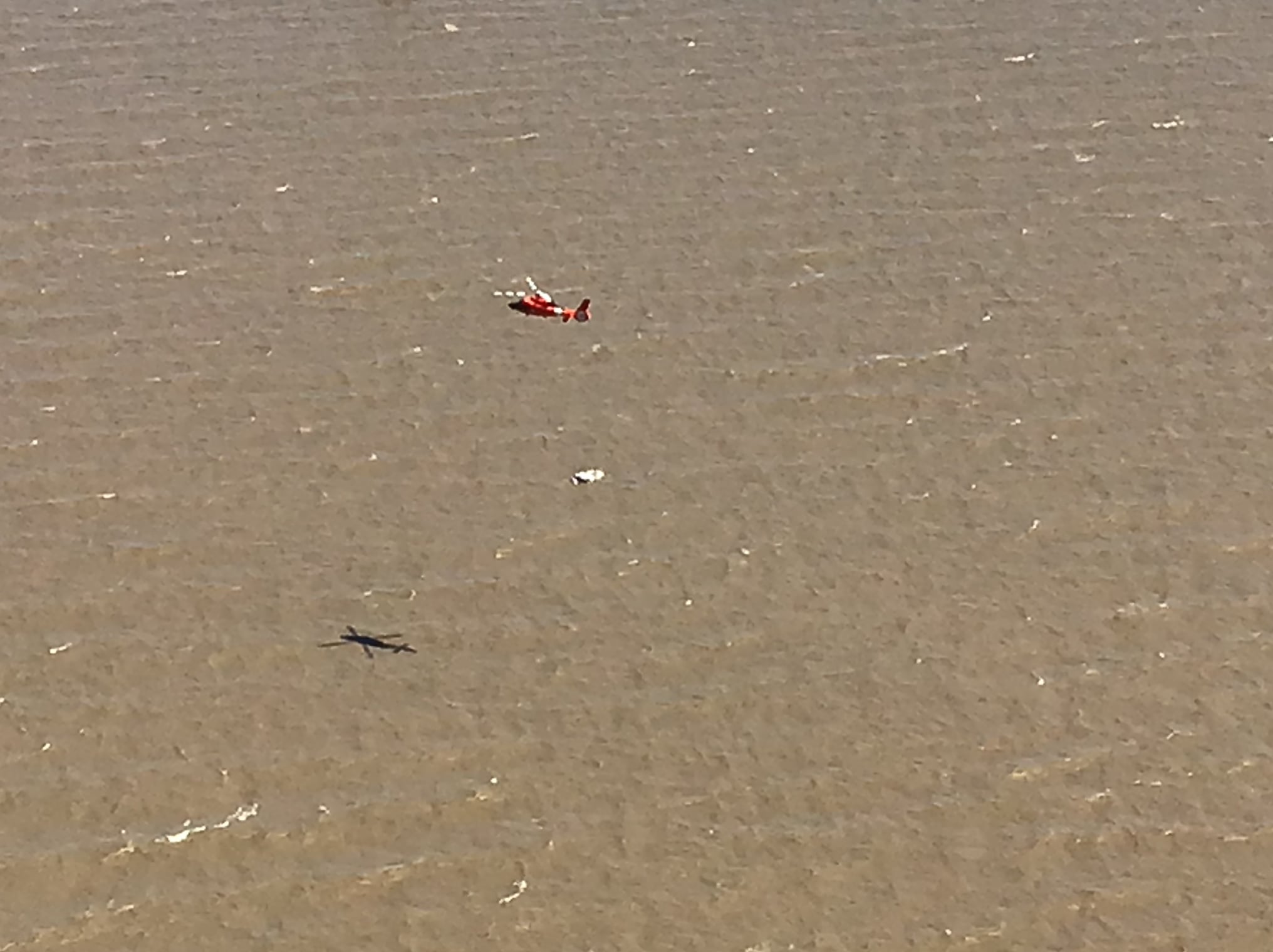 Lessons to Take Away Form This  Survival Story
Story and Interview by Paul Bernard, USCG
The photograph above appeared in an article by Paul Bernard, USCG, which was reposted on Boatwatch's Safety At Sea Section. It illustrates how hard it is to find someone in a gray dinghy from the air. Again color is so important.
 "the waving purple lifejacket really caught my attention." The pilots radioed in for help. Recognizing the gravity of the situation, they remained on scene and kept a watchful eye over the survivors.
Notes from Boatwatch:
I know from our own years of cruising in remote places and being involved in many different boating situations, I would have made better choices in picking out certain things that had the wrong color. For example our Ocean Kayak was grey. I could never see it even with binoculars when my husband was far away. Our dinghy was grey with grey chaps. We eventually put reflective tape on it so it could be seen at night and from the air. I kept orange hats and other safety equipment in the dinghy.