Broadcast Version For Maritime Mobile Service Network and Other Networks 
MRCC Martinique requests assistance in locating SV Circus, with two persons on board. SV Circus left Le Marin, Martinique on July 07, 2023 on passage to Curacao and is unreported.
SV Circus is 36 feet and has a grey hull.
Report all sightings to MRCC Fort de France or your nearest Coast Guard.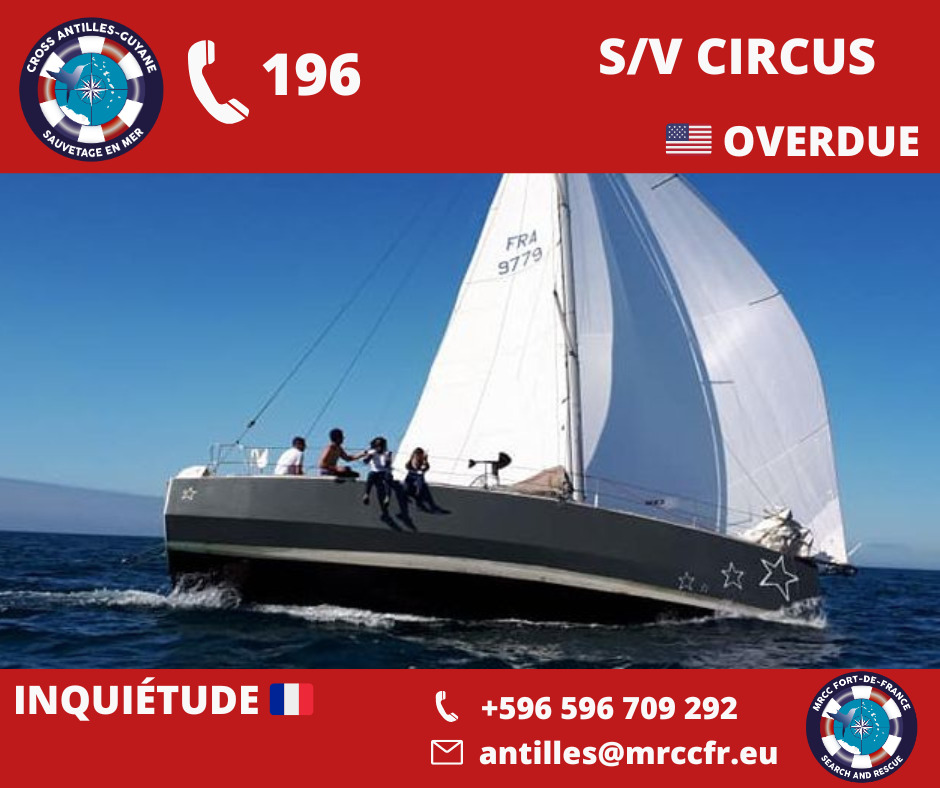 **OVERDUE**
OVERDUE CONCERNING SAILING VESSEL "CIRCUS" WITH 02 POB
LEFT LE MARIN, MARTINIQUE ON 07TH OF JULY- BOUND FOR CURACAO AND NOT ARRIVED YET
VESSEL TYPE : SAILING VESSEL
COLOUR: GREY HULL
LENGHT: 36 FEET

**INQUIETUDE**
INQUIETUDE CONCERNANT VOILIER "CIRCUS" AVEC 02 PERSONNES A BORD
A QUITTÉ LE MARIN, MARTINIQUE LE 07/07/2023 – EN DIRECTION DE CURAÇAO ET N'EST PAS ENCORE ARRIVE
TYPE DE NAVIRE : VOILIER
COULEUR : COQUE GRISE
LONGUEUR : 11 METRES
URGENTE
PREOCUPACIÓN POR VELERO "CIRCUS" CON 02 PERSONAS A BORDO
PARTIÓ DE LE MARIN, MARTINICA EL 07/07/2023 – CON DESTINO A CURAÇAO Y AÚN NO HA LLEGADO
TIPO DE EMBARCACIÓN: VELERO
COLOR: CASCO GRIS
LONGITUD: 11 METROS