Broadcast Version For Maritime Mobile Service Network & Other Nets
UPDATE – 1400 Zulu Time or 9:00 AM Eastern Time  – The boat and captain have been identified on social media as SV ARCANA and Captain Guiseppe Loreto. The Italian Captain was rescued by a Chinese cargo ship and is safe in a hotel.
Update information: The vessel's name is SV ARCANA, flagged in Italy.  
The owner Giuseppe Loreto who is currently in a hotel in Nosy Be. He has no interest in recovering the boat because for health conditions he has decided to return to Italy. He left the boat due to serious damage and was recovered by a Chinese cargo who brought him ashore.
This information is consistent with documents obtained on the boat very recently by local 
authorities.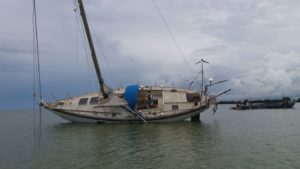 Original BOLO: A sloop which appears to be a Dufour 41 Sortilege with a registration number of B 804022 has washed ashore in Somanga, Tanzania, located in the Lindi Region of Tanzania.
A search of the vessel by authorities have not turned up a name of the boat, and identity of the owner, or any other clues which would help identify the boat.
Somebody out there must know something about this boat. Please forward this to logical sources in the EU, Africa, Australia, New Zealand, etc that may have knowledge of this boat, or other clues about the boat's owner.
Information may be sent to Eddie@Boatwatch.org or to Glenn@Boatwatch.org