Bravo Zulu to all the cruisers, SV PEC, MY PALADIN, World Arc Boats and the RCC centers that coordinated this effort to help in the medical emergency aboard SV CEPA. 
From Boat Watch Facebook Group, March 17, 2023, Cruiser Steve Bailey advised as follows and help to coordinate the amazing rescue:
"Looks like a medic from SV PEC is now onboard SV CEPA and they are meeting up with a superyacht PALADIN for a speedier trip for the patient. Hope this works out."
Broadcast Version For Maritime Mobile Service Network and Other Net
Ongoing MAYDAY from Sailing Vessel Cepa. Part of the World Arc.
Time Location (UPDATED):
Fri 17/Mar 16:40 GMT
11º 09.640 S 121º 42.475 W
Course: 277° true, 6.7 kts
Their position at

1740 UTC,  11d 10' .11'' S 121d 48'.82' W
Nature of Incident: Individual on board has had a stroke. Needs intensive medical care. SV has a 6-7 day sail remaining to get to Hiva Oa.
JRCC Tahiti, MRCC Germany and RCC Alameda have been notified. An Enhanced Group Call (EGC) Safety Net has been issued for the situation.
Captain of vessel is Thomas Floess. SV Cepa does not have enough fuel to motor direct to Hiva Oa.
What's needed: 1. Alternative methods to get individual to Hiva Oa fast. 2. Find closest vessel with Fuel 3. Closest vessel with medical personel on board.
Keep a sharp lookout, assist if possible and report all sightings or information to your nearest Coast Guard or JRCC  Tahiti.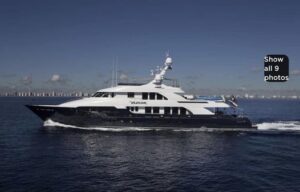 171841Z MAR 23
HYDROPAC 894/23(83).
EASTERN SOUTH PACIFIC.
DNC 06.
S/V CEPA REPORTS CREWMAN HAVING A STROKE AND
REQUIRING MEDICAL ASSISTANCE IN VICINITY
11-14.00S 121-09.00W. VESSELS IN VICINITY ABLE TO
PROVIDE MEDICAL ASSISTANCE REQUESTED TO ASSIST
IF POSSIBLE. REPORTS TO JRCC TAHITI,
INMARSAT-C: 582422799192,
PHONE: 689 4054 1616,
FAX: 689 4042 3915,
E-MAIL:
CONTACT@JRCC.PF
.