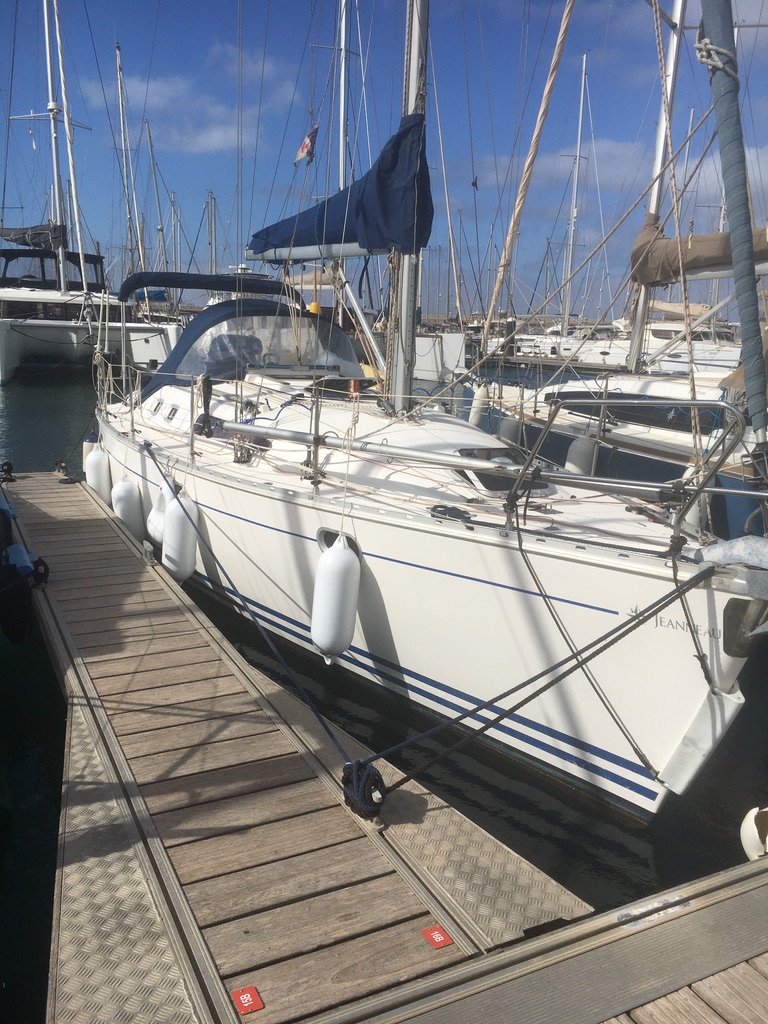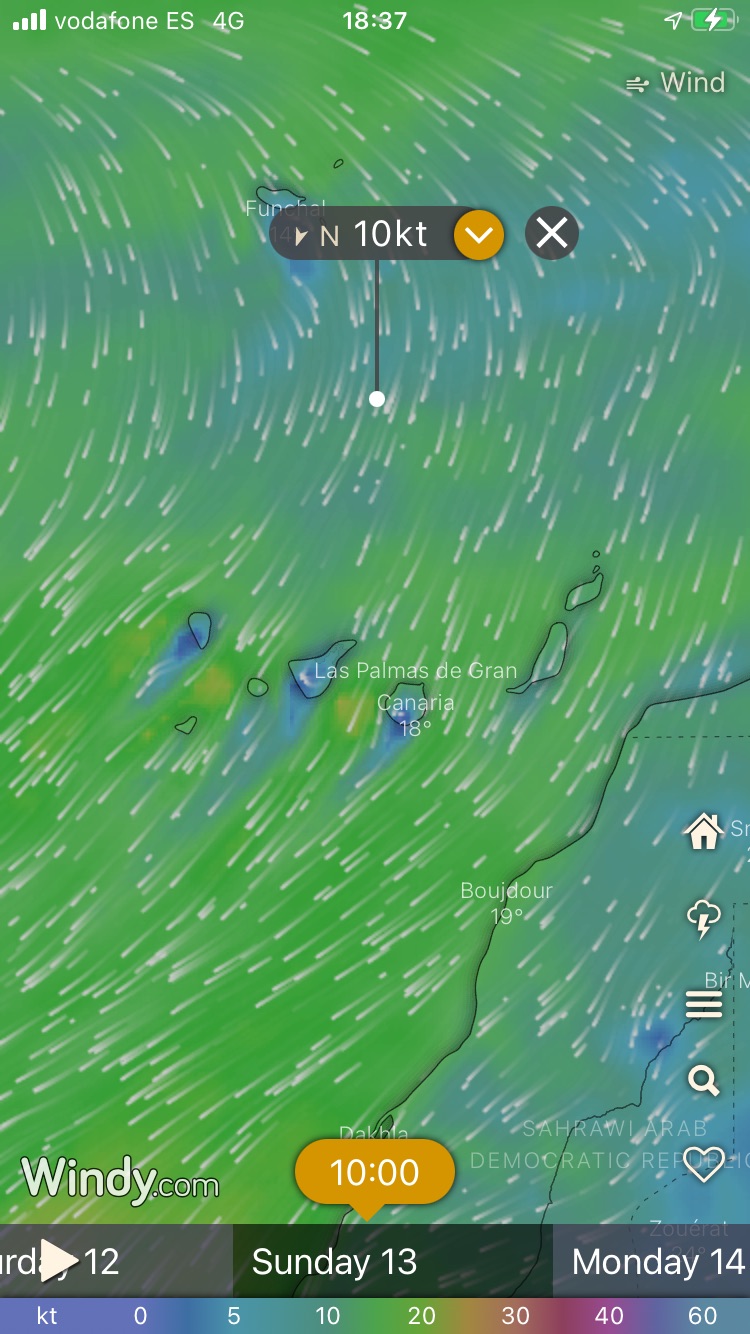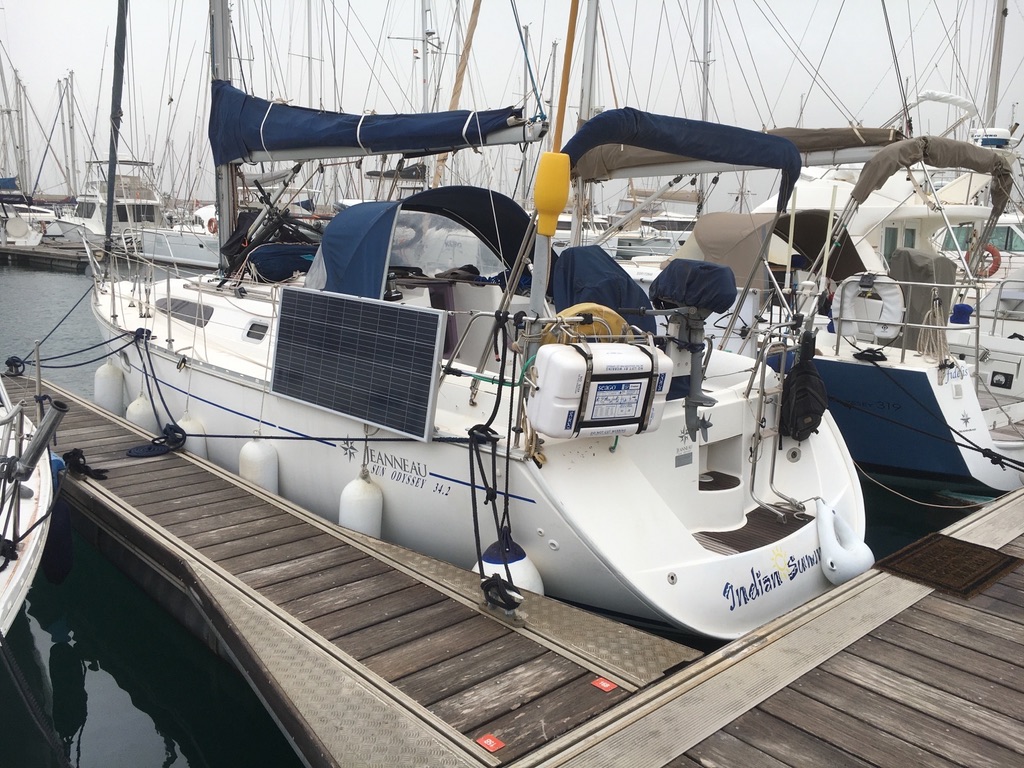 On Sunday February 20, 2022, the crew of SV Indian Summer was rescued by a Portuguese Air Force Helicopter. The crew consisted of one British citizen and two French citizens.
The sailboat is described as a Bristish flagged, 34.2 Jeanneau Sun Odyessey, white hull, navy canvas and solar panels. The solar panels were powering an AIS when it was abandoned. It was drifting SE at a bearing of 151 degrees towards Moroccan coast.
Official Number 054021 C898
MMSI is 235016378.
Call sign is MXHN7
Sail number GBR6481T
Rig: Bermuda Sloop
LOA 10.3m
Beam: 3.29m
This is the account of the rescue from the owner:
"Saturday 19 February 2022at 1730 UTC yacht Indian summer started drifting due to engine failure at 35 degrees 53 mins North and 009 degrees 28 minutes West
1750 UTC MM made pan pan call
Then converted pan pan to mayday distress call as situation worsening and yacht drifting SE towards Jadidi on the Morrocan coast at a rate of 2.5 knots per hour.
Last known position is 
35 degrees 39 minutes North 
009 degrees 19 minutes W
Although Yacht left hove to when we were rescued she was then drifting SE at a bearing of 151 degrees towards Moroccan coast.
After this series of events we were rescued by helicopter on Sunday 20 February 2022 at 0400 UTC by Portuguese Air Force and flown to Lisbon Airport's military area where we arrived at 0600.
1 x Portuguese policeman then checked out passports and we were processed out of the airport to to a civilian taxi tank to go and find a hotel in LISBON.! I asked for temporary accommodation but this request was refuted."
UPDATE From the owner March 16, 2022:
I submit some more information to you which may or may not assist in finding Indian Summer which is "Missing at Sea Day 24 as at 16 March 2022."

In addition to existing information as published i state as follows:

The winds were gusting to 33 knots and the sea state was huge.  A storm. 

I referred to the waves as "staircase waves" as they were so close and so steep in groups of 3 that we were climbing up, up and up then down into a trough. 

We were "managing" the situation but once the engine failed we had no steerage and no control of the yacht so were at the mercy of the storm which had a life of its own.

Having called a Pan Pan whilst I was within the stage of trying to "sit it  out " until daylight on the 20th Feb I realised that we may not survive long enough to do so hence the mayday. 

The Portuguese Air Force Air Sea Rescue arrived at 0400 and were excellent in all aspects.  I also mention that the two French crewmen, both aged 28,  were outstanding in all aspects and operated professionally and diligently at all times and have done so to this day. They are a credit to themselves and their country. 

I have canvassed widely for information about Yacht Indian Summer and only the Morrocan Coastguard responded to acknowledge receipt of my initial "lost yacht" report.  

Since then I have heard nothing from any other organisation I have contacted apart from Boatwatch  Org who responded at once to me and have taken swift action to assist for which I am most grateful.  I hope someone somewhere will see and report the location of Yacht Indian Summer.