UPDATE:April 5, 2020 – The Netherlands Coast Guard estimate travel at 5knots from last position know, which was 28 March which would put him in Gambia in several days depending on wind. Boatwatch has placed this case in Unresolved.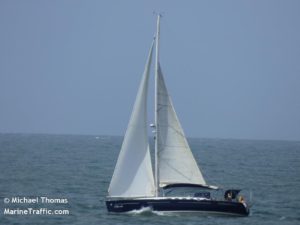 A non-emergency BOLO has been issued for SV Charlie with solo Dutch captain, Gerard Westmeijer, age 65 aboard his Beneteau Oceanis 504. He departed Walvisbay, Namibia on March 11, 2020 on a passage to Gambia where his wife lives. His scheduled stops were to be at Saint Helena and Ascension Island.  His son reports that he did not make these stops possibly due to the Corona Virus problems.
The coast guard at Saint Helena could track him to the last location which was "The last position that I have of Charlie as taken at 06:36 on 28 March is Latitude 2.112663, Longitude -11.54033, approximately 657 miles North of Ascension. Course 30.1 degrees, Speed 3.2 knts. Heading 0 degrees."
SV Charlie's hailing port is the Netherlands, MMSI 244690818.  The captain Gerard Westmeijer lives in the UK. Equipment on board includes: EPIRB, AIS-Class B, Cellular phone, VHF, a SPOT and it is unknown re a life raft.
Contact Glenn@boatwatch.org or Eddie@boatwatch.org with any information.