UPDATE: We have received news from Boat Watch facebook group member that sadly Joel Lanilis, also known as Felix on SV Kesako has been found deceased.
"The boat has been found by a Cargo north of the Marshall Islands, a few days later Japanese officials upon request from French officials managed to approach and board the boat. They found the skipped deceased on board. No more info on this sad resolution, the article in French is linked here and in English below.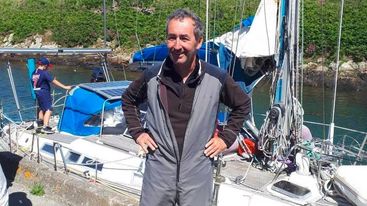 The Breton skipper of whom we had no news was found dead in his sailboat
Joël Lanilis, the 59-year-old Breton solo sailor whose sailboat Kesako had been drifting for several weeks in the Pacific, was found dead in his boat. "His body has just been found in the sailboat by Japanese rescuers. We don't know any more for the moment," the skipper's niece, Émilie Tual, told Voiles et Voiliers on Monday.
Joël Lanilis left Lampaul on June 1, 2019 to circumnavigate the world alone aboard his Centurion 38. We had given the alert in January , had recently explained to Voiles et Voiliers Émilie Tual, the niece of Joël Lanilis who had been asked by the relatives of this single skipper to activate research to find out more about the causes of the silence. strange from the sailor.
A cargo ship that had been hijacked had spotted the boat drifting north of the Marshall Islands. The ship approached but was unable to send one of its sailors aboard due to a storm. There were no traces of life on the deck. One of Kesako 's sails was completely torn. There was a mess on deck. The sailboat was drifting, buffeted by the waves. We wanted to know more ". Photos of the sailboat adrift were then taken by the freighter before leaving and two of them were then passed on to the skipper's family. " But we don't want to distribute them," says Émilie Tual. The boat is in a state of wandering, it's very sad to see. It is not the memory that we wish to leave of our uncle who was a very experienced and very meticulous navigator" .
Following this request for additional information relayed by Voiles et Voiliers, the French authorities had agreed with their Japanese counterparts, closest to the place where the boat was adrift, for a team to be sent to the spot by boat. There were four or five days of navigation for them.It was over the past weekend that the browser family was officially warned that finally the worst to fear had happened.
"Japanese rescuers boarded and found my uncle's body. We were not given the reasons for this death. We only know that they found my dead uncle on board. We don't know the circumstances or what could have happened to him. My uncle's body was taken away by the rescuers. It is expected to arrive in Japan on February 16 or 17. Kesako, his sailboat, was left adrift. They couldn't tow it, it was impossible over such a distance ".
Broadcast Version For Maritime Mobile Service Network and Other Net
UPDATE Feb. 8, 2023
An EPIRB activation has been received on Feb. 6, 2023, from SV Kesako at position 17-05.27N and 163-09.00E.
A lookout was previously issued for SV Kesako drifting as of 8:00 AM Eastern Daylight Savings time on January 28, 2023, near 13° 13.83N and 168° 2.11E, towards the Marshall Islands and Federated States of Micronesia.
Joel Lanidis, also known as "Felix" left Papeete, French Polynesia in October 2022 to go to Noumena, New Caledonia. The vessel has not been heard from since December 21, 2022. A ship came close on December 22, 2022 but could not approach and received no communications.
SV Kesako is a 40 foot, French flagged vessel from Ouessant, France, white hull with a light blue stripe. MMSI number 227680000.
Japan Coast Guard requests all vessels to keep a sharp lookout, assist if possible and report all sightings to the nearest Coast Guard or Coast Guard Japan.
Update Feb. 8, 2023 – EPIRB Activation
DISTRESS SIGNAL RECEIVED ON 406 MHZ
FROM S/V KESAKO IN 17-05.27N 163-09.00E
AT 062233Z FEB. VESSELS IN VICINITY
REQUESTED TO KEEP A SHARP LOOKOUT,
REPORTS TO JAPAN COAST GUARD,