BOLO for a Hazard to Navigation –
18.5 NM West of Marco Island, Florida.
30 FOOT WHITE WITH RED TRIM AIRCRAFT –
Tail Number N619J – ADRIFT at
 25-56.895N    082-05.918W.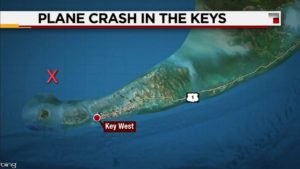 KEY WEST, Fla. – Two people were rescued by members of the Naval Air Station in Key West Monday morning, 01 June 2020 after their small plane crashed into the water.
Federal Aviation Administration spokeswoman Kathleen Bergen said the Jabiru light sport aircraft crashed into the water about 20 miles northwest of Key West at 10:30 a.m.
According to U.S. Navy officials, members of the air station's Search and Rescue team hoisted the man and woman from the water into a helicopter and transported them to Lower Keys Medical Center.
Both were listed in stable condition.
The cause of the crash is under investigation, and as of 14 June 2020 is still adrift presenting a hazard to Navigation. The plane is presently adrift in position 25 56.895 N / 082 05.918 W or approx 18.5 NM West of Marco Island, Florida.
USCG St Petersburg, FL advised that on 01 June 2020 a light aircraft with two POB ditched in the Gulf of Mexico near Key West, FL The two POB were safely rescued, however the aircraft remains afloat and the following Hazard to Navigation was issued on Sunday, 14 June 2020 at 0520 hrs UTC:
140520Z JUN 20
NAVAREA IV 515/20(11).
GULF OF MEXICO.
FLORIDA.
1. 30 FOOT WHITE WITH RED TRIM AIRCRAFT ADRIFT
IN 25-56.895N 082-05.918W ON 14 JUN.
2. CANCEL THIS MSG 17 JUN 20.