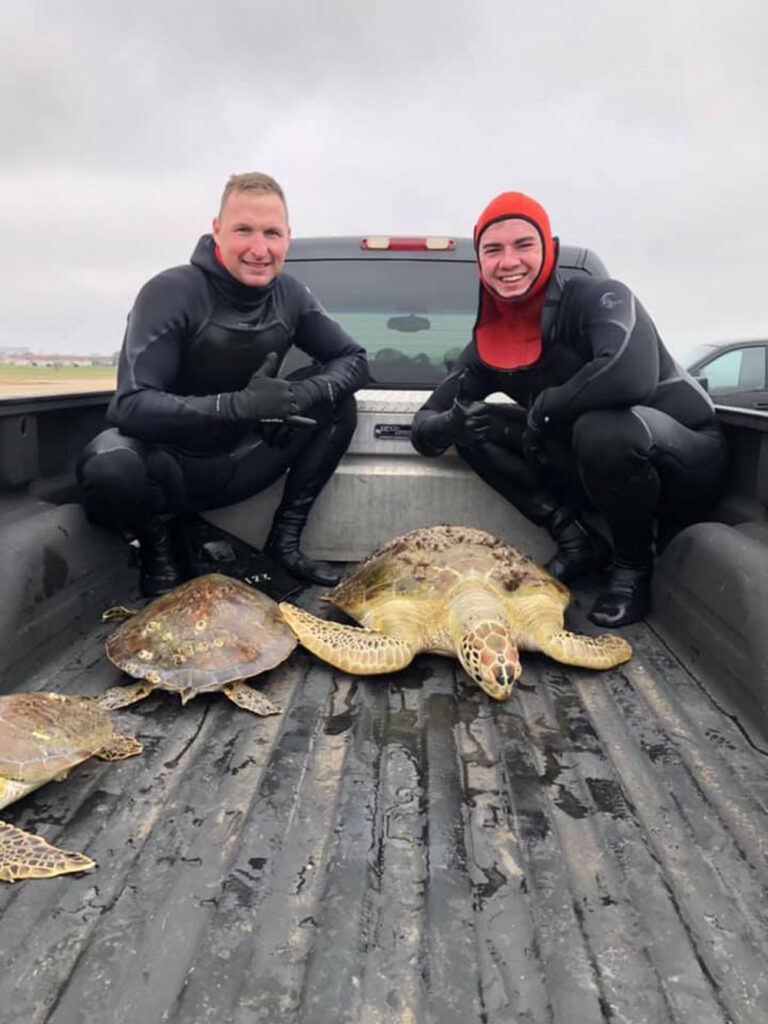 CORPUS CHRISTI, Texas — The Coast Guard rescued 60 sea turtles that were in need of life-saving assistance after being affected by a recent winter storm near South Padre Island, Texas, Wednesday.
Two aviation survival technicians, or rescue swimmers, Petty Officer 2nd Class Russell Grizzard and Petty Officer 3rd Class Will Groskritz, from Coast Guard Sector/Air Station Corpus Christi, volunteered to help swim in and rescue sea turtles that had been stunned as a result of the recent cold weather.
The rescue was part of an effort by various local volunteers who rescued an accumulative of over 400 cold-stunned sea turtles, who were then transported to local rehabilitation centers.
"We were more than happy to lend our assistance and expertise to the larger group effort helping to save the sea turtles that had been affected by the freeze," said Groskritz. "Russ and I swam through some rough and cold water to help these turtles that were out of reach from shore."
The water temperature at the time of the rescue was reported as 35-36 degrees.
Helicopter Rescue Swimmer Capabilities:
The RS must have the mental capacity, flexibility, mobility, strength, power, agility, endurance, and equipment to function for at least 30 minutes in heavy seas, on unstable platforms, on rugged terrain during severe adverse weather conditions. The RS must also possess Emergency Medical Technician (EMT) skills in order to provide basic pre-hospital life support for the rescued individual(s).
In addition, the RS shall have the survival training, knowledge, understanding, and experience to survive at sea or on land if left onscene for greater than 24 hours.
The RS shall have the ability to safely and effectively extricate survivors from roof tops, fully understand the hazards and how to negotiate flood and swift water, and understand and utilize high angle ropes rescue techniques.
Trained to operate in a variety of maritime environments, ASTs are highly conditioned rescue and survival experts, as well as highly capable aviation life support equipment technicians. While serving as Helicopter Rescue Swimmers, ASTs may find themselves deployed into a myriad of challenging scenarios ranging from hurricanes and cliff rescues to emergency medical evacuations from ships at sea. Whether in Hawaii, Alaska, Puerto Rico, or any of the many Coast Guard Air Stations within the continental United States, ASTs train year-round to prepare mentally and physically for the challenges they may face as Helicopter Rescue Swimmers.