Coast Guard rescues man from disabled sailing vessel near Long Beach, Wash.
Long Beach, Wash. — The Coast Guard rescued a man after his sailing vessel became disabled dangerously close to the surf near Peacock Spit Friday, 03 JAN 2020, about one mile from the shore near Cape Disappointment.
The man contacted watchstanders at Coast Guard Station Cape Disappointment by cell phone at approximately 2:45 p.m. His 36-foot sailing vessel had lost power and the mast had fallen, causing the vessel to become adrift in proximity of the waters of the Cape Disappointment bar.
Coast Guard Sector Columbia River watchstanders were notified as crew members aboard a 47-foot Motor Lifeboat diverted from training operations nearby.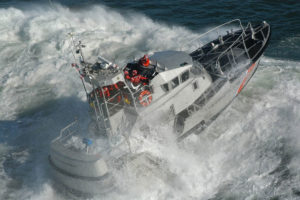 An MH-65 Dolphin rescue helicopter crew from Coast Guard Sector North Bend was also transiting the area and diverted to render assistance.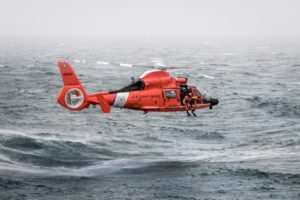 The aircrew first located the distressed vessel at 3:35 p.m. and initially intended to provide on-scene weather information and vector-in the 47-foot MLB crew which was en-route.
The sailing vessel's mast had fallen, preventing the man from entering the cabin to avoid the harsh elements. Additionally, the vessel's loss of power and inability to maneuver was deemed reason enough for the aircrew to hoist the man from the vessel rather than wait for the MLB crew to arrive.
At 4:04 p.m. the rescue swimmer deployed and helped hoist the man from the vessel. The aircrew transported the man to Air Station Astoria where further action to recover the disabled vessel is set to take place as weather conditions dissipate.
The man is reportedly in healthy condition at Air Station Astoria. An incident management team is monitoring the situation to prevent or mitigate any environmental impact.