"Cruisers Helping Cruisers"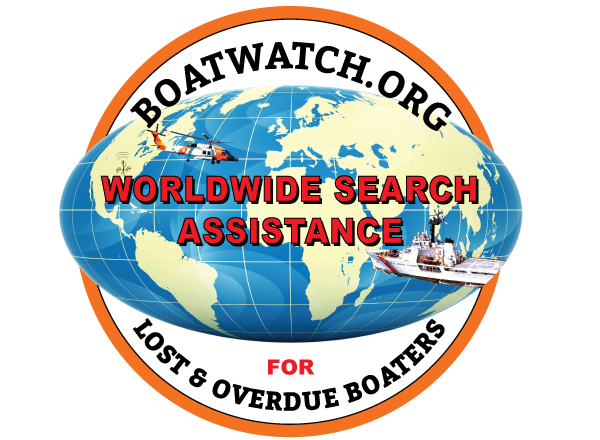 By Glenn & Eddie Tuttle
Boatwatch.org is well into its second year of serving as a conduit between the family and friends of overdue and missing boaters, and the many governmental agencies responsible for Search and Rescue Operations throughout the world. An amazing group of concerned people have stepped up to help look for the missing with their time and ideas.
It's an amazing group of resources that include: friends and family of the missing, Coast Guard Rescue Centers, cruisers, ham radio operators, Boatwatch.org partners, pilots, commercial ships, fishing fleets, divers, tourists, port captains, marina managers, weather routers, mega yacht captains, missionaries, marine vendors, news sources such as: Ocean Navigator Magazine;  Caribbean Safety and Security Net; Noonsite;  Caribbean Compass; and dedicated Facebook administrators.
Also helping connecting information and looking for the missing are two Facebook groups, Boat Watch and Flotsam and Jetsam.  Over 4,000 members from all over the world, representing over 70 countries, have helped with searches and information in these two Facebook groups. We thank all of these members for helping their fellow boater.
A very big thank you to our website developer, Candee Gulick, managing partner of CeJay Associates, https://cejayassoc.com/. Candee has been with us every step of the way in developing the website to meet our goals of helping to locate overdue and missing vessels, as well as, communicating with family members, friends of missing boaters and government officials. Candee's support and sailing experience have been essential to the success of Boatwatch.org.  Candee and her husband, John Gulick, a Marine Surveyor at Gulick Associates, https://gulickassoc.com/, sail on their Corsair 27, Roaring Forties in SW Florida.
Another very big thank you goes out to our long-time cruising friend, and Boatwatch.org partner, Chris Parker, Marine Weather Center, www.mwxc.com. Chris has provided valuable insight and drift analysis on numerous missing boats and cruisers which have assisted the families and world-wide Coast Guards, all at his own time and expense.  Chris also broadcasts lookouts for missing and overdue vessels on his regularly scheduled SSB Radio voice nets which can be found at https://www.mwxc.com/marine_weather_services.php.
We would also like to thank another contributor and Boatwatch.org partner, John K. Fulweiler, jr., maritime attorney, www.saltwaterlaw.com.  John stepped up early on and has provided valuable insight and help. John is also the author of a book, called "A Swim", based on a true story.
Another big thank you to our partners listed with links on the home page of Boatwatch.org: Seven Seas Cruising Association, Ocean Cruising Club, Noonsite, Waterway Radio and Cruising Club, Cruisers Network Online Groups IO, Hurricane Watch Net, Winlink Global Radio Email, Ocean Navigator Magazine, Marine Traffic, Maritime Mobile Service Network, Bahamas Air and Sea Rescue Association, Salty Dawg Sailing Association and 8islas.
Welcome to our latest partner, 8islas. 8islas was founded in 2013 as the Bluewater sailor's platform that helps sailors who visit the Canary Islands and also assist sailors for their Atlantic crossings by coaching and logistics. Through contacts in all islands and marinas, and through an exclusive "Network" of sailors and associations, it provides updated info. It represents Transocean (Germany), Seven Seas Cruising Association (USA), Ocean Cruising Club (Global) and ANAVRE (Spain). 8islas transferred data and contacts for the new and exclusive cruising guide of the Canary Islands, "Cruising Guide to the Canary Islands", published by Imray Laurie Norie & Wilson Ltd.​  It is also key part of the "most friendly ocean rally" VIKING EXPLORERS. 8islas is a non-profit organization that promotes Bluewater sailing through events, Guides, Seminars and Webinars.
Most important a thank you to the world-wide Rescue Coordination Centers (RCCs) and Coast Guards, especially the U.S. Coast Guard, for their amazing efforts and rescues.  Boatwatch.org has an excellent working relationship with many USCG RCCs.   For a listing of these centers go to https://boatwatch.org/resources/.  In the past year, we have seen that Boatwatch.org's communication with the various Coast Guards has been a tremendous benefit to family and friends of the missing and overdue yachts as well as the various Coast Guard agencies.
A key link to this success and growth has been our SSCA HF Radio Service, FCC Call Sign "KPK".  This net operates daily at 1215 UTC, or 0815 hours during Summer months, and 0715 hours during Winter months on SSB frequency 8.104.  We could not conduct this net without the dedicated assistance from Jim West, Coastal Station KJM in Georgia; Tom Kintz of the S/V Lone Star; Jeff Larson of the S/V UJAM'N; Ken Sharp of the S/V Griffin; Rick Hake of the S/V Mai Tai, Colin Johnson of the M/V WyRow; Kim White of the S/V Gabrielle; Debbie and Reggie of the S/V Runner in Panama, and Alan Gibson of the S/V Wind Magic in Mexico.  With the assistance of these cruisers, KPK has an effective area of HF radio coverage from Nova Scotia to South America.
Finally, we wish to acknowledge the daily Maritime Mobile Service Net, the Waterway Radio And Cruising Club Amateur Radio Nets, the Cruiseheimers Net on SSB frequency 8.152 at 0830 Hours Eastern Time, and Dick Giddings's (KNC) follow-up Doo Dah Net on SSB frequency 8.152 at 1700 hours Eastern Time, for allowing us to make announcements concerning missing and overdue vessels. A listing and description of these nets and others can be found at https://boatwatch.org/resources/.
Once in a while we get radio traffic from unlikely stations. The other day, a surprise check-in came from Air Force aircraft 3285, a Lockheed C-130H Hercules in the air over Delaware.  We also receive check ins from various fishing fleet captains. We have developed a very nice relationship with Captain Ernest of the F/V Lady Sue who normally fishes the waters off the coast of Honduras.  We are confident Captain Ernest would come to the aid of any cruiser having problems in this particularly hazardous area of the Western Caribbean.
Although many have tried to find missing boaters and help, there remains the missing and unresolved sad cases. https://boatwatch.org/about-boat-watch-cruisers-aid/unresolved-marine-incidents/ For those friends and families, Boatwatch.org's whole team of volunteers and boaters will continue to keep a look out and remember the missing. The families and friends of the missing have been very grateful to all the volunteers and the world-wide network of Coast Guard Rescue Centers for looking for their loved ones.