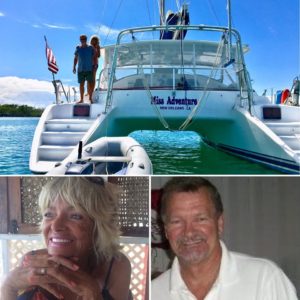 Dario Vissepo wrote a heartfelt story regarding the fire at Marina Pescaderia Puerto Real, Cabo Rojo, Puerto Rico.
So sad, so sad that my heart hurts.
Last night close to 7pm shortly after they left my store at the marina my friends and 3 slips up neighbors Gina & Gate Tannehill perished after somewhere in their catamaran (s/v Miss Adventure) aft exploded and caught fire. "We might be back later for your (store) New Year's party", Gina told me.
Two neighbors and I tried to extinguish with 3 neighboring whimsy boat water hoses until the firemen arrived and quickly extinguish the cockpit and down below ball of fire. Last night was raining hard during the fire and the prevailing east winds were not that strong, so others boats were spared.
Gina & Gate where blessed with being such wonderful warmhearted human beings, always with a smile and super friendly. We sailed together a couple of times and to La Parguera (see photo). We shared countless joyful times of camaraderie in our beer garden, marina and onboard. They returned to P.R. the day before this past Xmas after sailing a year in the Caribbean and they told us that they came back to make Puerto Rico their home for good.
Rest In Peace my friends, you guys will always be in my heart. A pray for them and their love ones.
Fair & Peaceful Winds.