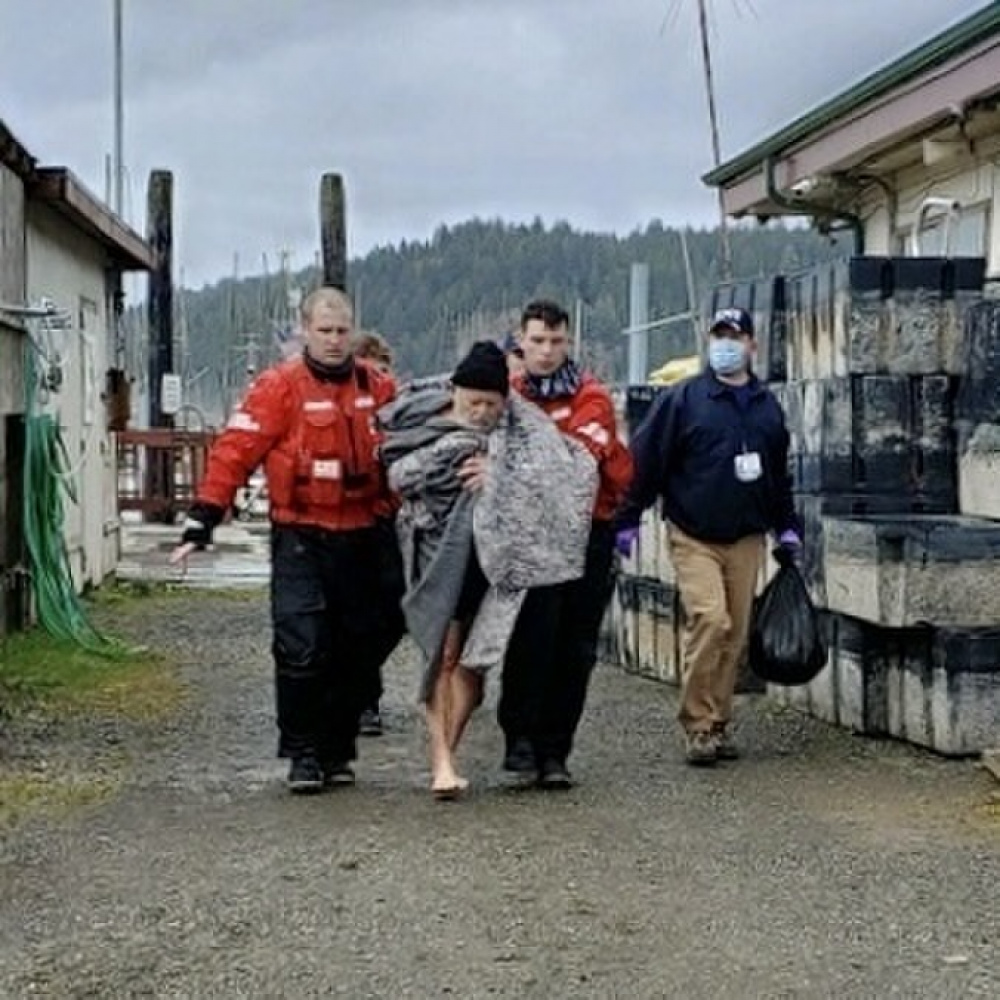 SEATTLE — A Coast Guard Station Quillayute River boatcrew rescued three men Saturday afternoon from a sinking vessel five miles off the coast of La Push, Wash.
At 2:40 p.m., watchstanders at Coast Guard Puget Sound Command Center received an emergency request for assistance on VHF-FM radio channel-16 from a man reporting their 48-foot vessel was taking on water and beginning to sink.
A Station Quillayute River 47-foot Motor Lifeboat (MLB) crew was dispatched at 2:50 p.m. Weather on scene was reported as 8 to 10-foot seas with winds of 30 mph.
At 3:10 p.m., three people were spotted amongst floating debris. None of the individuals were in lifejackets.
The boat crew came alongside two of the men and were able to pull them safely aboard the response boat. One of the men was struggling to keep afloat. At this time, one of the Coast Guard crew members entered the water to assist and bring him to the MLB. The three men were showing symptoms of hypothermia.
At approximately 3:35 p.m., the rescue crew arrived back to La Push and transferred to EMS from Forks, Wash.
Their current condition is unknown.
The vessel sank with several hundred gallons of diesel fuel onboard. Pollution responders are currently investigating any potential maritime hazards to the public or marine life.
A Coast Guard Air Station Port Angeles MH-65 Dolphin rescue helicopter crew launched to examine the area for oil sheen.
A Note from Boatwatch re USCG Station Station Quillayute River, Washington 
Two 47-foot Motor Life Boat crews from Coast Guard Station Quiallyute River in La Push, Wash., train in surf off the coast of La Push. Coxswains train for years to become surfmen, the highest level of qualified Coast Guard boat operators. U.S. Coast Guard photo.
Station Quillayute River is located in La Push, Wash., on the Quileute Indian Reservation.
Originally established in 1929, the station's area of responsibility, which extends from Cape Alava, Wash., south to Queets River, Wash., includes the treacherous inlet at the mouth of the Quillayute River.
The jagged rock frame and unpredictable surf zone make the inlet a challenge to navigate. Subsequently the station's boat crews are trained to conduct rescues in rough weather using two 47-foot motor lifeboats, which are capable of operating in 50-knot sustained winds, 30 foot seas, and 20 foot surf.