From the Jacksonville Fire Department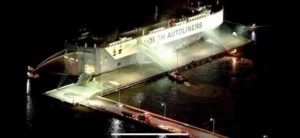 Earlier this afternoon Fire 1 and Command Van 1 were dispatched to the Jacksonville Port at Blount Island in Fire District 48 for a fire involving an ocean-going cargo ship. First in Fire Companies found a 600'+ long multistory drive-on drive-off car carrier with smoke showing. A fire had been reported on one of the upper floors of the vessel. The fire became 3 Alarms as crews were reporting involvement from the 5th floor to the 11th floor.
Around 2.5 hours into the operation a large explosion occurred inside of the ship. 9 firefighters were injured and transported to a Level 1 Trauma Center in downtown Jacksonville. Some of those firefighters were then flown by helicopter from the Trauma Center to the University of Florida Burn Center in Gainesville. Please keep our members in your thoughts and prayers over the next several days, they will need all they can get. At this time, JFRD Fire Boats are continuing to cool the hull of the ship in order to keep the structural stability in tact.
From USCG
The Coast Guard and partner agencies are responding to fire on board a cargo ship at Blount Island.Coast Guard Sector Jacksonville watchstanders were notified just before 4:00 pm of a fire on board the MV Höegh Xiamen. The watchstanders immediately notified Jacksonville Fire and Rescue Department and Jacksonville Sheriff's Office, issued an urgent marine information broadcast and directed the launch of a Coast Guard Station Mayport.
The Coast Guard Station Mayport RB-M crew, Jacksonville Fire and Rescue Department, Jacksonville Sheriff's Office, and Blount Island Port Authority were all on scene. A 500-yard safety zone has been established around the MV Höegh Xiamen. The cause of the fire is under investigation. All 21 crew members have been safely accounted for.