UPDATE: Nov. 17, 2020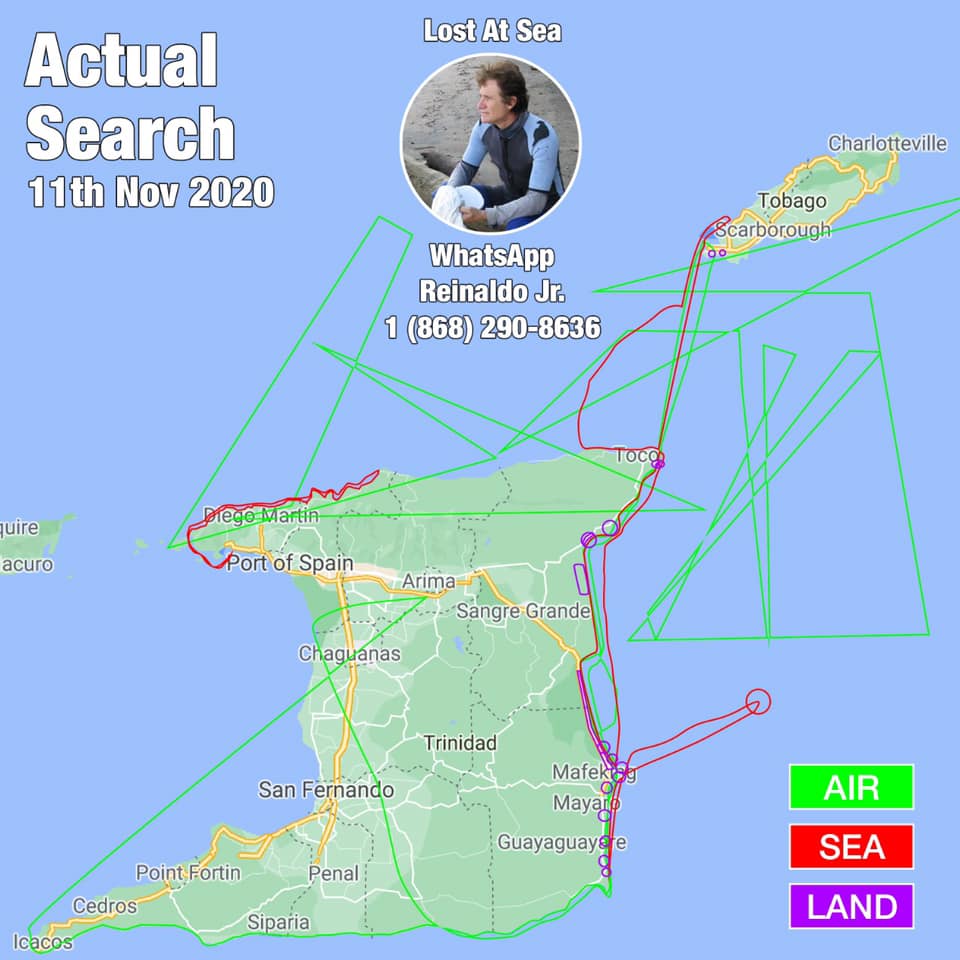 *URGENT HELP NEEDED*
Reinaldo Novoa, Retired Nurse and pharmacy representative, father to two boys, married to Jasema Mungalsingh, grandfather to 7 grandchildren,*went missing off the coast of Mayaro while doing an open dive, at 3:45pm yesterday. He is a strong swimmer and diving instructor and did have two buoyancy devices.
Last GPS coordinates 1027711
06043332
Time is of the essence he does have survival knowledge and experience, respect of the sea and will to last this long. We take inspiration from Christopher Burgos
There will be more land efforts today. We need fit volunteers, ham radio and drone operators for today's coastal search. We will be meeting at various points on the east coast beaches from Mayaro spreading outwards mostly north. Best meet up time 6am and morning period to catch the sun from the east.
Teams will start on the beach and work their way inland, search party style. Each team should hopefully have a ham radio operator or hand radio for effective reliable communication.
Hydration recovery protocol will be in effect and emergency air lift would be on stand by for taking my father Reinaldo Sr. To the hospital.
Please note COVID-19 Guidelines would be in effect.
Should you be able to volunteer, please message Reinaldo Jr. (Robbie) on 1 (868) 290-8636 with your possible availability times and you will be put on a team. We thank you in advance for your time investment to the cause.
Last GPS coordinates 1027711
06043332
---
From Facebook Group Trinidad Cruisers Nov. 9, 2020
Please may we get help locating Reinaldo Novoa experienced diver retired nurse gone missing with two floatation devices. Search and rescue effort dated today November 9th 2020.
Models show where he would be at 10, 12, and 2 pm. 10 am he could have made landfall at toco/la fourier. If not, at 12 pm he could have drifted to 11 01.883, 60 57.892, and by 2 pm he could have drifted to 11 06.000, 61 00.468. Please pass this onto the relevant authorities/search parties.
Weather is rough between Trinidad and Tobago making air visuals bad we need as much support in the waters now as little progress in the air